Camelina seed oil, also called camelina oil, is a new type of healthy vegetable oil. Originated in the Mediterranean, camelina is historically cultivated as oil plant. The content of Ω – 3 fatty acid within in camelina seed oil is above 34.5%, the content of natural vitamin E is 56.6 mg / 100 g. Besides, camelina seed oil also contains other important elements, including unique nervonic acid that can't be found from other vegetable oils. The successful promotion of camelina seed oil will further promote the industrialization of Ω – 3 essential fatty acids processing, provide the possibility to produce a large number of stable supply source of Ω - 3 essential fatty acids. The sub-critical biological low temperature extraction technology, patented ABC Machinery, is outstanding extraction method for camelina seed oil.

Camelina Seed Oil Extraction Technology
Subcritical Biological Extraction Technology is a new kind of oil extraction technology. Its outstanding advantage is low temperature leaching, so the whole oil extraction process does not destroy the protein activity of oil. Then, this technology removes solvent within the oil and meal at the condition of low temperature, so it can produce high quality oil and meal. The sub-critical biological extraction technology for camelina seeed oil processing can effectively preserve the active components in the oil, and extracted premium quality camelina seed oil with high nutritional values.
Main Equipment for Camelina Seed Oil Extraction
For our international advanced oil extraction technology, the main camelina seed oil extraction includes extraction tank, solvent tank, vacuum pump, condenser, compressor and more. Among them, camelina seed oil extraction tank is the main equipment used for counter-current oil extraction and leaching. The size and quantity of extraction tank is decided by the capacity of your camelina seed oil processing mill. It's also important to note that the solvent used by our camelina seed oil extraction technology is recycling, so condenser and compressor are important for solvent recycling.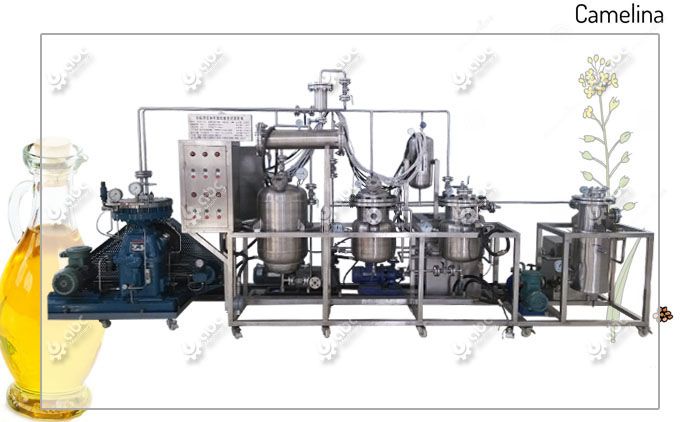 Camelina Seed Oil Extraction Equipment
Simply speaking, our camelina seed oil extraction technology is new type oil processing technology that is suitable to extraction oil with more nutrition and value since it can better protect the active substances, like protein, heat-sensitive components. If you are looking an ideal oil extraction technology that is totally different from traditional oil extraction technology and traditional solvent extraction technology, there are no more better choice than our camelina seed oil extraction technology. Please email us for more details and information about it.
Why Should Choose Camelina Seed Oil?
Some plant oils, like perilla seed oil, rosehip oil, rape seed oil and more contain high omega-3. And camelina seed oil also contain high omega-3, up to 34.5%. Besides, it also contain other important components that is essential for human body. (Please note: we also provide efficient Rosehip Oil Extraction Machinery and Linseed Oil Production Equipment to protect its omega-3 from damages.)
Nutritional Value: Camelina seed oil contains high fatty acid, including omega-3, omega – 6 and omega – 9 fatty acids
| Fatty Acids | Content |
| --- | --- |
| Omega-3 ( Alpha – Linolenic Acid ) | 35 % |
| Omega- 6 ( Linoleic Acid ) | 17 % |
| Omega-9 ( Oleic Acid ) | 17 % |
Therapeutic and Healing Function:
Camelina seeed oil is a strong antioxidant, good emollient, hair conditioner, immune booster. And, it is helpful for arthritic, brain, eyes and nerves.