Extract Essential Oil from Seeds of Chili / Pepper
If you are interested in invest in chilli seed oil processing business, subcritical oil extraction machine is what you need. It is a kind of cold oil extraction technology, best choice for extracting oil from seeds of chili or pepper. (Related Post: Spice Oleoresin Extraction)
Subcritical Chilli Seed Oil Extraction Machine
Production Capacity: 5~150L per Batch
Application: It is sidely used for mini and small scale chilli seed essential oil extraction, especially in scientific research institutions and colleges. Suitable for process seeds of pepper, chili, pimiento, Paprika, etc.
This is a set of automatic chilli seed oil processing unit designed with PLC computer control which can offer precise data such as pressure, temperature and extraction time. It is base on low temperature oil production technology, so all the bioactive constituents are fully remained in produced oils. (Read more about pepper oil extraction machine >>)
Advantages of Subcritical Extracted Chilli Seed Oil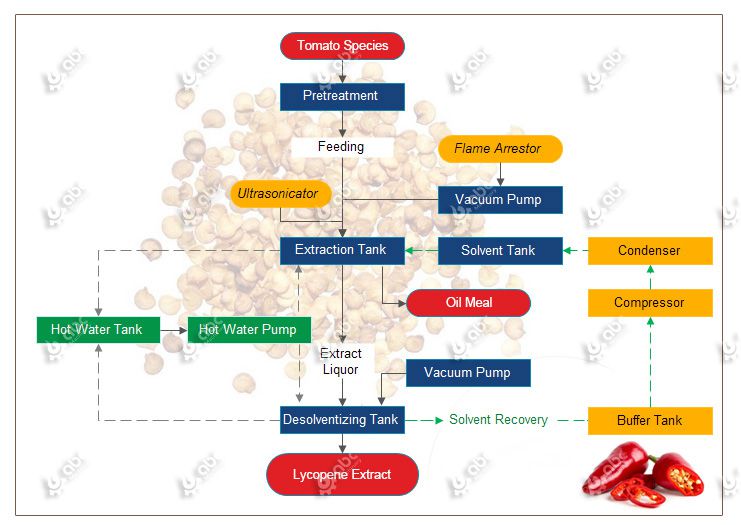 Subcritical Chilli Seed Essential Oil Extraction Process
Subcritical essential oil extraction equipment has many advantages when compared with traditional solvent extraction and supercritical Fluid Extraction.
Although solvent is used as traditiona solvent extraction, subcritical oil extraction is processed under low temperature and high pressure, making the residual solvent less than 50ppm and residual oil less than 1%. The quality of subcritical extracted essential oil is much higher with 100% bioactive nutrients remained. Moreover, only 4-8kg solvent is needed for processing per tone of chilli seeds or pepper seeds.
Low production cost: No need of steam, reduce the energy consumption and cost.
No pollution: 100% recycle of solvent, zero discharge.
Subcritical extraction shares all the advantages of CO2 Extraction, but the equipment price is much lower. Besides, it is also suitable for large scale essential oil extraction business plan, which is unrealizable when using CO2 Extraction.
Market of Chilli Seed Oil Extraction Industry
When the word 'essential oil' is mentioned, plants like lavender, geranium, and tea tree come to mind. They are always prominent in health food stores and online. One essential oil of note is not as common, making it harder to find, but it is well worth the search. Essential oil extracted from seeds of chili / pepper has numerous benefits and applications and deserves a place in the medicine cabinet as well as in the kitchen.

Essential Oil Extraction from Chilli Seeds
Chilli seed oil, or capsicum annum, as it is called in the scientific realm, is derived from the chilli / pepper seeds by steam distillation or other methods. It has a hot, spicy fragrance and a deep red color. It is used in foods, pharmaceuticals, cosmetics, aromatherapy, and pain creams.
Wide Application of Chilli Seed Essential Oil Production
Chilli seed oil is used in many ethnic cuisines like Asian, Indian, and Mexican. It adds that 'wow' factor that makes dishes more interesting and appealing. It has a high vitamin C content making it a potent antioxidant so it eliminates free radicals that damage the body. It also contains carotenoids, vitamins A, B, E, and K. For this reason, it also fortifies the body's immune system. Capsanthin found in the oil raises HDL cholesterol. That's the good cholesterol. Capsaicin, another substance found in chilli oil, provides relief from fibromyalgia. It also boosts metabolism making it useful in weight loss formulas.
Another common benefit of chilli seed oil is its use as an analgesic. Note that it is not recommended to apply chilli seed oil without diluting it. It can be quite painful. Dilute chilli seed oil with equal parts carrier oil like coconut or jojoba, or even beeswax. Issues like overused tendons, bursitis, arthritis, any muscle or joint strain is relieved quite effectively by applying a cream that has chilli seed oil in it. Studies have shown chilli seed oil to give relief to diabetic neuropathy and other nervous system pain and tingling. Tiger Balm is one such product sold at stores like Walgreens that athletes and dancers are familiar with because it delivers substantial pain relief. Anyone suffering hair loss can benefit greatly from the application of chilli seed oil in its diluted form. Chilli seed oil boosts circulation stimulating blood flow. The circulation at the hair roots helps hair to regenerate. In a 2007 research study, chilli seed oil proved to increase hair growth in mice, and later, in people suffering from alopecia, In the same way, it can help with nail growth and strength.
Chilli seed oil contains disinfectant and antiseptic qualities. This makes it useful for treating insect bites or itchy skin. A natural treatment like chilli seed oil appeals to those who wish to abstain from using harsh synthetic ingredients. Chilli seed oil is not just for enhancing flavor. This vitamin-rich pain relieving substance effectively treats itchy skin and insect bites. It promotes hair and nail growth and health. Because it increases circulation, it helps heal joints, tendons, and muscles providing immense relief. Because its uses are so numerous and varied, chilli seed oil should be a staple in every household.
More details of essentail oil extractor machine >>