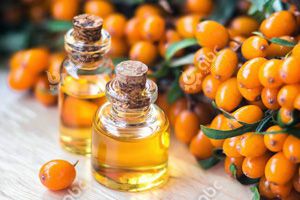 Sea-buckthorn seed oil is extracted from sea-buckthorn seed by
subcritical low-temperature extraction
. It is a red-brown-red transparent oily liquid, and is a highly concentrated substance of effective composition of the sea buckthorn. Sea buckthorn seed oil contains rich active ingredients, more than 140, including flavonoids, organic acids, alkaloids, sterols, triterpenes and various kinds of vitamins and other more than 140 bioactive ingredients.
ABC Machinery
is the only supplier and exporter of sub-critical low temperature extracting equipment in China. We have the advanced technology and professional technical supports, our
sea buckthorn seed oil extraction equipment
is now increasingly popular among a lot of investors who seek for more profits by producing high quality sea buckthorn oil.
Sea Buckthorn Seed Oil Extraction Equipment for Sales
We supply
small scale oil extracting machine
or
large scale oil extraction plant
to meet different oil production requirements. Below is our main small or mini type sea buckthorn oil making machine. They are built with high quality stainless steel for long-term service life. Certainly, the best part about them it its great extracting ability.
If you have any interests in our products, please submit your inquiries, we will reply you as soon as possible!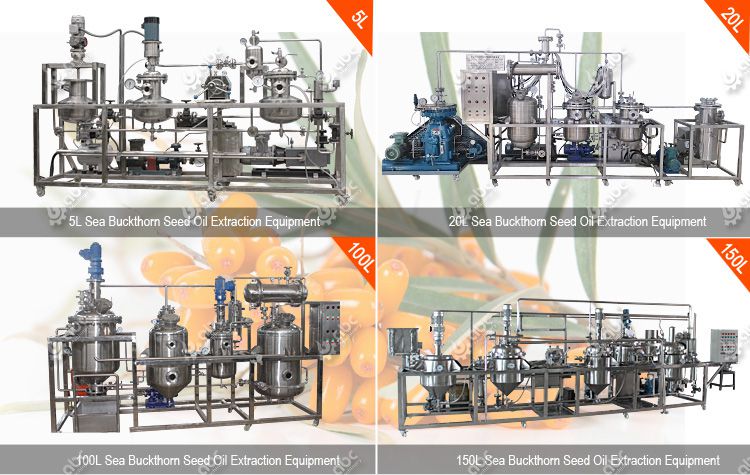 Sea Buckthorn Seed Oil Extraction Unit
Advantages of Sea Buckthorn Seed Oil Extraction Equipment – Low Temperature
Has little investment for the extraction equipment (Compared to supercritical extraction machine)
Can form large-scale industrial production
Perfectly retains the active ingredients of sea buckthorn
Worthy for popularizing, also suitable for other valuable oils or essential oils
Applications of Sea Buckthorn Seed Oil
As a raw material for health food, seabuckthorn seed oil has been widely used in antioxidation, fatigue, liver protection and blood lipids.
Sea-buckthorn seed oil, as a medicinal raw material, has obvious biological function. It is resistant to infection, promotes quick healing, and is widely used in treating burns, scald, frostbite, knife injury and so on. Sea-buckthorn seed oil has good and stable effect on tonsillitis, stomatitis, conjunctivitis, keratitis and gynecological cervicitis.
Sea-buckthorn seed oil is a complex of various vitamins and bioactive substances. It can nourish the skin, promote metabolism, anti-allergic, anti-inflammatory sterilization, promote epithelial cells regeneration, have repair effect to the skin, keeps skin acid environment, strong permeability, and is also the important raw material of the beauty.
ABC Machinery is the top manufacturer of low temperature extraction machinery for various oils, including sea buckthorn seed oil, essential oils, spice oils and more. If you have any interests in its extracting process, please contact us direclty!