Black Cumin Seed Oil, also known as Nigella Sativa Oil, is a kind of vegetable oil that is extracted from black cumin seeds. Black cumin seeds oil contains up to 50% to 60% linoleic acid, about 15% of unsaturated fatty acids, about 1% of alpha-secondary linoleic acid, 0.5%~1% essential oil, vitamin E, plant sterols and other fat companion substances. Due to the large amounts of polyunsaturated fatty acids and composition of essential oil, black cumin seed oil acts as activate the immune system switch of human body. So, it have great effect on strengthening the immune system. Experts have recently come to prove that this black cumin seeds oil is actually among the best cures for many unknown illness of body face. Other benefits of black cumin oil include anti-fungal, antiviral and anti-bacterial remedy.

Efficient Black Cumin Seeds Oil Extraction Unit
Low Temperature Oil Extraction Equipment is especially designed for the extracting of valuable oils or precious oils since the design conception is to protect the active ingredients within valuable oils from damages. The least black cumin seeds oil extraction unit is ideal machinery to extract oil from black cumin seeds. It makes use of subcritical low temperature biological extraction method to extract oil. Solvents available for black cumin seeds oil extracting are butane, propane, dimethyl ether and R134a. Pretreated black cumin seeds will be loaded into the extraction tank, it will go through counter-current extraction. Obtained extract from extraction process will be vaporized to separate the target oil from the solvents. It is worthy to note that the solvent within the whole black cumin seeds oil extraction process is recycling.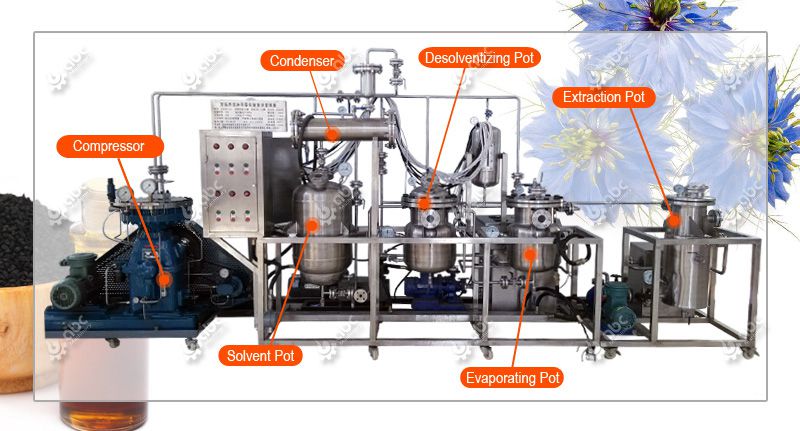 Small Black Cumin Seeds Oil Extraction Unit (20L)
Technical Data of Black Cumin Seeds Oil Extraction Machine - 20L
| | | | |
| --- | --- | --- | --- |
| Solvent Available | Butane, Propane/Water, Ethyl Alcohol | Total Power | 8.25 Kw |
| Equipment Material | 304 Stainless Steel | Vacuum Pump | 1.52 Kw |
| Extraction Temperature | Low Temperature (<40°C) | Compressor | 3 Kw |
| Design Pressure | 1.5 MPa | Hot Water Pump | 0.75 Kw |
| Working Pressure | 1.2 MPa | Heater | 3 Kw*2 |
We provide different types of
small black cumin seeds oil extraction equipment
for different production requirements, ranging from 1L to 200L.
If you want to know more detailed information or the latest price, please contact us anytime!
Advantages of Black Cumin Seeds Oil Extraction Unit
It adopts the latest oil extraction technology to conserve the active ingredients contained in the black cumin seeds oil, ensuring highest quality final black cumin oil
It can achieve the same extraction result with supercritical CO2 extraction equipment, but the price and operating cost of our black cumin seeds oil extraction unit is far less than that of supercritical CO2 extraction.
It is energy-saving extraction machinery, compared to hexane extraction machine, the can save up to 70% heat energy.
It consume less solvent, usually processing one tone of raw material only needs 8kg of solvent.
To sum up, the black cumin seeds oil extraction unit we designed and manufactured is the most suitable extraction machine for black cumin oil production in the market. Its high extraction efficiency, low operating cost, advanced extraction method attract more and more investors, especially in valuable and precious oil production. In addition to small scale oil extraction machinery, we also offer turnkey pojects for black cumin seeds oil and other raw materials. If you have any interest in our products, please get in touch with us now, we will offer the best price for you!