Nutrient Components of Pomegranate Seed Oil
Pomegranate seed oil is quite functional therefore making it to the list of "super fruits". The pomegranate is a rare gem yet to be discovered by the whole world. It is not surprising that it might be the next beauty craze. It is known for its nutritional value, unique flavor and its healthy characteristics. It is good to note that some of the best pomegranates are grown in the south of Afghanistan in Kandahar, Balkh and Hemland.
Punicic Acid- Studies show that pomegranate seed oil is used as a comprehensive agent against breast cancer.
Palmitic Acid- It reduces aging
Stearic Acid- Has lubricative properties
Oleic Acid- It reduces blood pressure and aids in weight loss
Rich in Vitamins C and B5- This are essential vitamins in the body
Low Temperature Pomegranate Seed Oil Extraction Method
Although there are many methods available for pomegranate seed oil extracting in the market, the most cost effective method is subcritical low temperature extraction technology that is newly developed by ABC Machinery. The main pomegranate seed oil extracting process is completed under low temperature condition free from high temperature and pressure, which maximizes the nutrients and active ingredients contained within pomegranate seed oil. That is to say subcritical low temperature pomegranate seed oil extracting equipment offers unrivalled advantages of other traditional extraction methods. Find out more models of small pomegranate seed oil extraction equpment at Oil Extraction Unit>>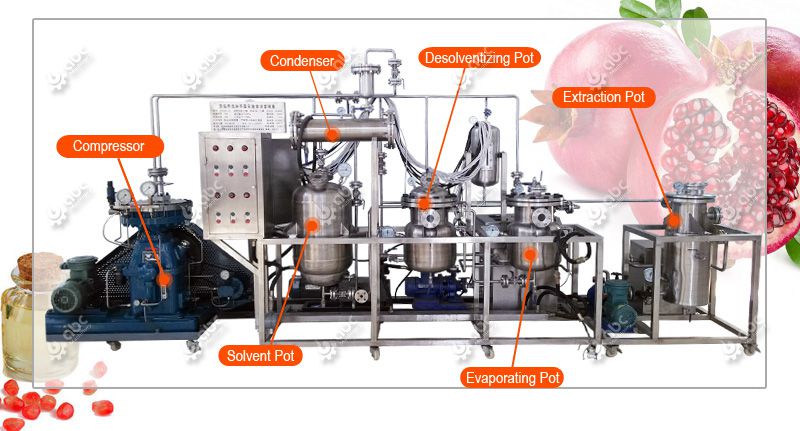 Small Scale Pomegranate Seed Oil Extraction Machine
Simple Process of Pomegranate Seed Oil Extracting Equipment
The extracting of pomegranate seed oil mainly contains pretreatment process of pomegranate seeds, pomegranate seed oil extraction and crude pomegranate seed oil refinery. The three main processes finally produce high quality pomegranate oil that can be priced higher in the market. Our subcritical low temperature pomegranate seed extracting equipment is mainly in charge of the second process – pomegranate seed oil extracting. You may also be interested in Pomegranate Seed Extraction Machine>>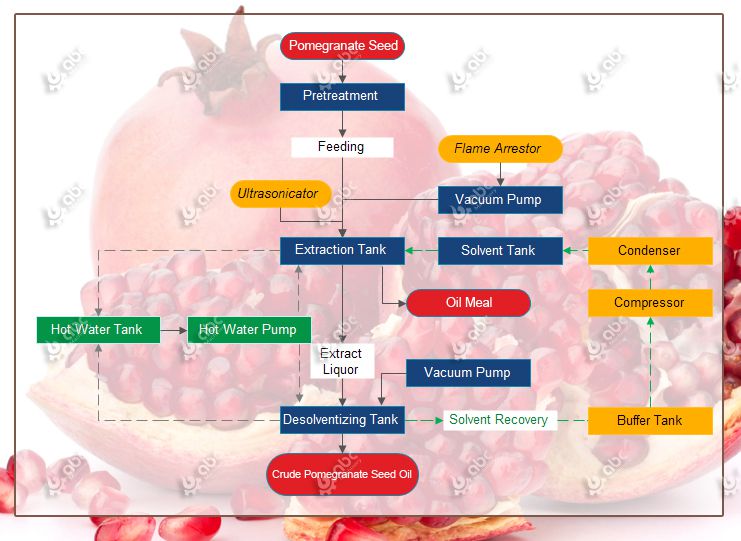 Low Temperature Pomegranate Seed Oil Extracting Process
Health Benefits of Pomegranate Seed oil
It contains no saturated fats
It is a good source of dietary fiber which aid in digestion
If used in diet, it improves circulation and boosts immunity
It is effective against cancer due to Punicic acid
It is a source of vitamins
It protects against muscle aches and inflammation
Prevents hormonal imbalances
It aids in weight loss
Application of Pomegranate Seed Oil on Skin Benefits
Many of the applications of the pomegranate are theraupeutic:
The oil is used as an anti-inflammatory
Improves skin elasticity
Supports cellular regeneration
Used as an antioxidant
Revitalizes premature or sun damaged skin
Used as an emollient for dry skin
The new type low temperature
pomegranate seed oil extracting equipment
developed by ABC Machinery is now the most suitable extraction machinery for valuable oils, just like pomegranate seed oil. In addition to small scale extraction machinery unit, we also provide
large scale turnkey project
for pomegranate seed oil extracting.
Any interests in our products, please contact us for the latest price and technical parameters!