Tea seed is the fruit of tea trees in autumn. It is rich in tea polyphenols, VE, linoleic acid and other nutrients that benefit human body. Oil extracted from tea seeds is a kind of nutritious cooking oil that is extremely health. Besides, it contains rich VE and saturated fatty acids. The content of linoleic acid in tea seeds oil is the highest compared with other kinds oils, such as camellia seed oil oil, olive oil. Therefore, tea seed oil is also known as "oil gold". The best machinery for tea seed oil should preserve all the valuable nutritions of tea seeds oil. That's what our tea seed oil processing machinery are designed for. Beside, the price of our machinery is lower than the same processing machinery in market! (You may also interested in Wheat Germ Oil Extraction>>)
Working Principle of Tea Seed Oil Processing Machinery
Subcritical biological extraction technology is a new oil production technology. Its outstanding advantage is leaching at low temperature, desolventizing at room temperature without destroying the active ingredients in the extracted oil. The oils and the oil meal are all obtained at low temperature condition, so there are of high quality and have the very high use values. Besides, it requires low investment cost. (You may also interested in Pomegranate Seed Extractor)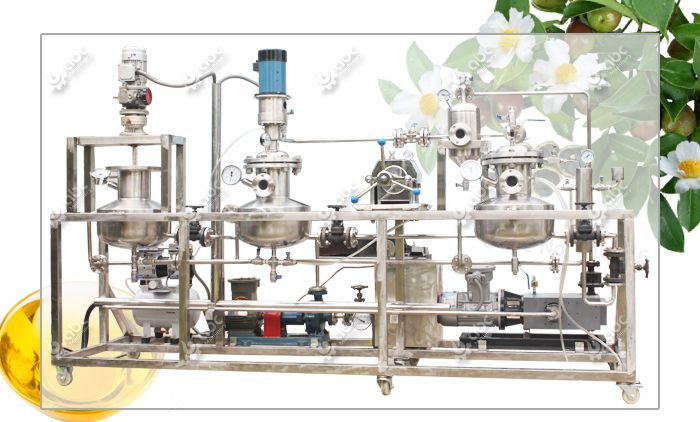 Best Tea Seed Oil Processing Machinery at Wholesale Price
Extraction Process of Tea Seed Oil Processing
Pretreatment: First of all, the tea seed should be pretreated for easy and smooth oil processing.

Tea Seeds Pretreatment Process
Oil Extraction: After tea seeds are well pretreated, it comes to the next process: Tea Seed Oil Extraction. The main tea seed oil processing machinery includes oil extractor, solvent tank, mixing tank, evaporation tank, condenser, compressor, vacuum pump and more. (You may also interested in Curcumin Extraction Process)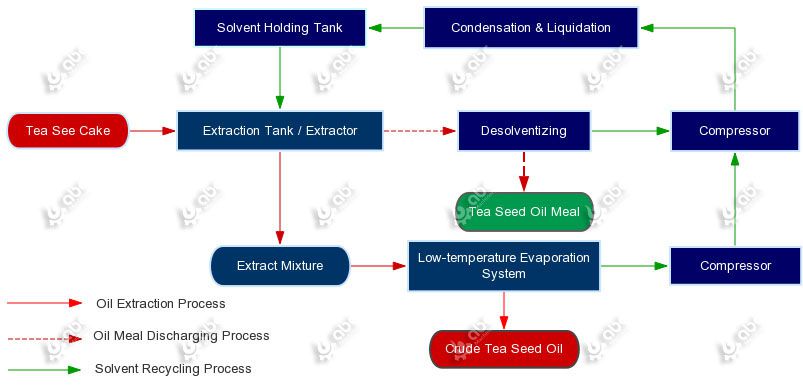 Low Temperature Tea Seed Oil Processing Process
Oil Refinery: When the crude tea seed oil is obtained, it comes to refining process for pure and high quality tea seed oil.


Tea Seed Oil Refining Process
The process of subcritical fluid extraction of tea seed oil processing machinery can effectively preserve the active substance in oil, and the extracted oil has high nutritional value.The technology is perfectly solve the problem of the low-temperature extraction of thermal sensitive material. Its outstanding features include low cost, high yield, large scale production, green environmental protection. It not only reduce the cost, and for the special oil, the extraction technology provide better ways for traditional Chinese medicinal materials extraction, and created good condition for the development and utilization of plant protein extraction. At present, the technology has been widely used in the fields of precious oil, active protein, plant pigment and Chinese medicinal materials.
Values of Tea Seed Oil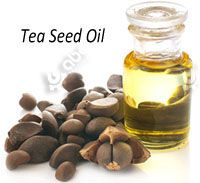 Tea seed oil is rich in unsaturated fatty acids, and the proportion of fatty acids is more balanced. According to relevant data, the proportion of fatty acids in tea seed oil is similar to olive oil and camellia seed oil. However, tea seed oil is rich in natural tea polyphenols of characteristic indexes. These substances can regulate immune active cells, enhance immune function, eliminate human free radicals, have high ability of anti-oxidation, anti-aging, anti-tri-height and other functions.
In conclusion, if you are looking for the best and most advanced machinery for tea seed oil processing, our machinery would be your BEST choice. The extraction process can be customized based on different requirement for tea seed oil application. The oil extracted by our tea seed oil processing machinery can be easily used in food, cosmetics, pharmaceuticals and other industries. Please send us email if you are interested in our products or ask for the latest price!