Stevia extract, extracted from leaves of Stevia Rebaudiana, is a kind of sweetener. Studies have proved that there are eight different sweet components in the extract of stevioli: stevioside; rebaudiside A, B, C, D, E; Dulcoside A, B. But the main active ingredient of stevia extract are steviol glycosides. It is more stable than sugar and has up to 150 times of sugar. Therefore, how the stevia extract is made? Which machinery and technology are the best for stevia extraction and steviol glycosides? ABC Machinery, as the best extraction machinery in China, boasts strong R&D strength. We are the leader in the extraction of natural active components, including precious oils, natural pigments and plant proteins. The extraction machinery we provide for stevia extraction is guaranteed with high quality and low cost. You are very welcomed to contact us for more detailed information! (Click to see detailed process of
turmeric oil extraction machinery
)
New Mini Stevia Extraction Machinery for Steviol Glycosides
Our stevia extraction machinery adopts the updated and newest low temperature subcritical biological extraction technology to for high quality stevia extract. With the airtight, anaerobic and low pressure extraction container, it makes use of the properties of subcritical fluid to soak up the materials. In the process of soaking, the molecular diffuse and make the fat-soluble and active components of solid materials transfer into the solvent. Then, through vacuum evaporation system, the solvent and stevia extract are separated. (You may also interested in seed oil extraction methods)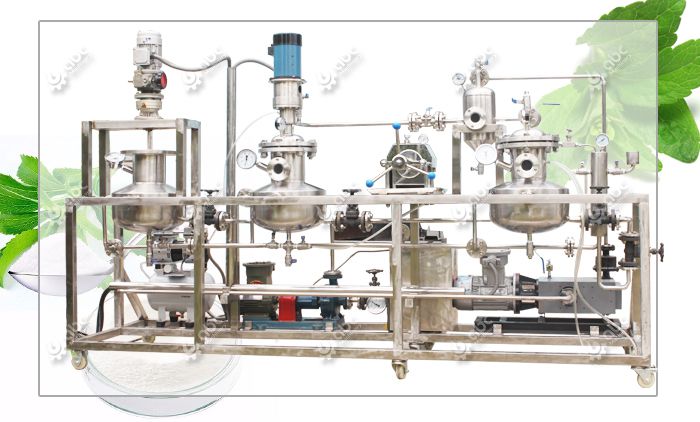 Mini Stevia Extraction Machinery (5L)
The design of our mini stevia extraction machinery is more delicate. It is equipped with PLC computer control technology for more convenient and safe operation. So, the proportion between material and solvent, the extraction time, extraction temperature, pressure are precisely controlled for efficient extraction and minimal energy consumption. Besides, it is also designed with quick opening structure for simple operation. (See more details about large scale capsicum carotenoids extraction machinery)
Features of Mini Stevia Extraction Machinery
Extraction is an important process of the processing of natural products. It is accomplished by extraction machinery. So, the extraction equipment has a great influence on the quality, yield and efficiency of the extract. Our mini stevia extraction machinery presents the following outstanding features:
High extraction speed, high efficiency, effective extraction of natural active components and minimal waste of material resources
The solvent consumption is small, the liquid coefficient is small, the concentration of leaching liquid is high, the solvent is saved, and the production cost of the post-process is saved
Low temperature extraction technology reduces the damage to the active components of the natural sources, especially for the extraction of heat-sensitive materials
Good adaptability, suitable for different materials extraction
Production continuity is good, suitable for modern large-scale continuous production
Reliable, safe and energy-saving, simple structure for easy and convenient operation
Benefits of Stevia Extract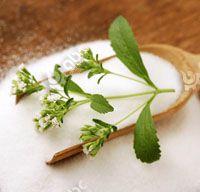 Stevia extract, stevioside, is a modern, natural sweetener extracted from stevia. It is characterized by high sweet, low calorie, 200 to 350 times sweeter than sucrose, but only 1/300 of sucrose. A large number of medical tests indicate that stevioside has no toxic side effects, no carcinogenic substance, and is a safe sweetener suitable for human consumption. Long-term consumption of this sweetener can prevent hypertension, diabetes, obesity, heart disease and dental caries. Stevia is an ideal sweetener for sucrose. Stevia extract can be used in food, beverage, medicine, daily chemicals, beer and cosmetics. The use of stevia extract reduces costs by 60 percent compared with the use of sucrose. Stevioside is pure white, pleasant and odorless, will become a promising new source of sugar. Stevia extract is a natural low - heat sweetener, which is similar to sucros. It is the third kind of natural cane sugar substitute that has the development value and the healthy value of natural sweeter. And it is internationally known as "the Third Sugar Source in the World".
If there are any needs for our mini stevia extraction machinery or any questions about the extraction process, please feel free to contact us!