ABC Machinery specializes in developing advanced extracting technology, designing complete production line and manufacturing machinery for extracting natural extracts. Among our product catalogues, essential oils extracting equipment, curcumin extraction plant and valuable oils extracting machinery have won customers' support and trusts due to the excellent extracting performance, lower investment cost and very good returns. If you have the needs, please contact us, we do our best to offer best price extraction machinery for you!
Avocado oil remarkable for the many healing, treatment inducing and protective ingredients derived from nature. Most natural oils are processed from seeds, but avocado oil is extracted from the avocado fruit through a series of squeezing, pressing or extracting processes. Oil extracted from the avocado fruit is rich in vitamins, potassium, lecithin, and amino acids. Besides, avocado oil also contains a large number of other properties and essential nutrients. Although avocado is a kind of fruit, avocado oil is classified as vegetable oil. As it is much expensive in the market, it is rarely used as a salad oil.
Low Temperature Avocado Oil Extraction Machine
We provide all scale avocado oil extracting machinery for different avocado oil production capacities. Our avocado oil extraction machine adopts latest subcritical low temperature extracting technology to precisely retain the active ingredients contained in the natural avocado fruit. It can achieve the same extracting results of supercritical CO2 extraction equipment, but requires low investment cost and its operating cost is also lower. All in all, if you want to optimize the final avocado oil extracting, subcritical low temperature extracting equipment is the ideal choice.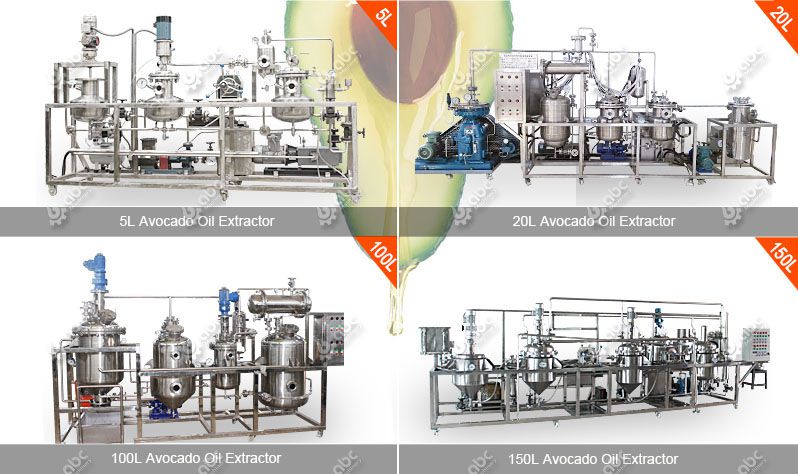 Small Scale Avocado Oil Extraction Machine
Above is part of our small scale avocado oil extractor. The capacity for avocado oil extracting ranges from 1L to 200 L. Customized oil extracting capacity is also avaliable for small scale oil extracting equipment. For more detailed technical parameters, please see Oil Extraction Unit>>

On the other hand, we also offer large scale production plant for avocado oil extracting, the capacity is 1TPD ~ 200TPD. If there are any needs, please let us know. We are good at undertaking turnkey projects for various natural extracts. From plant designing, equipment manufacturing, onsite installation and commissioning, you are guaranteed BEST price & service!

Large Scale Avocado Oil Production Line
Advantages of Low Temperature Avocado Oil Extraction Machine
Low temperature oil extracting process ensure no miss of valuable ingredients
Lower investment cost and operating cost, but higher quality avocado oil
Suitable for small or large scale avocado oil extracting requirements
Customized avocado oil for edible or cosmetic quality
Easy to operate & Save energy
Uses & Benefits of Avocado Oil
In fact, through many years of experimentation, practice, applications, the benefits of avocado oil have been recognized by almond all cultures due to its incredible regenerative properties, powers of penetration, and the ability to stimulate collagen metabolism. Avocado oil is an essential treatment for all sorts of skin ailments. Avocado oil can deeply penetrates into the dermis, allowing the regenerative properties to work on the inside. Another way the oil protects the skin is by producing an antimicrobial layer that effectively relieves dryness and itching. Because the oil is rich in mono-unsaturated fatty acids, it is used for softening rough, dry, or aging skin. It also works as a sun block by warding off the dangerous rays of the sun and nourishing the skin to return its soft luster and glow.
Also, the oil is often used as a topical treatment for wounds, infections, and such ailments as arthritis, gout, and rheumatism. Rarely used on its own as a stand-alone treatment, it is most often combined in a mixture with other essential oils to achieve desired results. For example, a mixture of avocado oil and olive oil can be used to treat various hair problems such as dryness and dandruff. The presence of the nutrients iron, magnesium, folic acid, amino acids, and vitamins A, D, and E provide a healthy treatment and nourishment for all types of hair. Because of its heavy texture, waxy feel, and sweet, nutty aroma, avocado oil is a much-used ingredient in aromatherapy for massages. As mentioned previously, its deep penetrating qualities provide relaxation and regeneration for ailing skin and muscles. Many soaps, lotions, creams and topical ointments use avocado oil as an essential ingredient for creating a healthful and aromatic treatment for the skin.
ABC Machinery avocado oil extraction machine utilizes low temperature extracting method for best quality avocado oil. Based on different extraction requirements, final avocado oil can be used in food processing or cosmetic making. If there are needs, please get in touch with us by below enquiry form, we are always at your sides.