Knowledge of Peppermint Essential Oil
Peppermint essential oil a component that is extracted from peppermint by water distillation or subcritical low temperature extraction technology. Mint is refreshing and refreshing. Indications: clearing throat and moistening the throat, eliminating bad breath has very good effect, and has the unique curative effect of relieving body and mind. Peppermint essential oil is one of the ten essential oils for essential oil beginners and beginners.


Peppermint Essential Oil
Peppermint essential oil has double effect, can cool down when hot, can warm the body when cold, so it is excellent for the treatment of cold, respiratory symptoms are very good, for dry cough, asthma, bronchitis, pneumonia, tuberculosis has a certain effect. It is also very helpful for digestive diseases, such as eliminating flatulence, relieving stomachache and heartburn. In addition, it relieves pain, is effective for migraines, and can help reduce fever. (You may also like Best Methods for Essential Oils >>)
Low Temperature Peppermint Essential Oil Extraction Machine for Sale
Subcritical low temperature extraction technology uses subcritical fluid as extractant, in a sealed, oxygen-free, low-pressure pressure vessel, according to the principle of similar solubility of organic matter, through the molecular diffusion process of extractive material and extractant in the soaking process, the fat-soluble components in solid material can be transferred to liquid extractant, and then the extractant and the target product can be separated by vacuum evaporation process. This is a new type low temperature oil extraction and separation technology. (Read more about Herb Oil Extractor >>)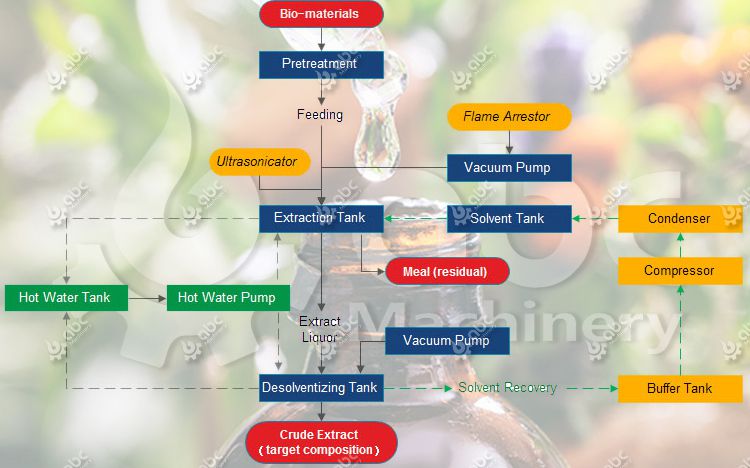 Low Temperature Peppermint Essential Oil Extraction Process
Subcritical low temperature extraction technology has many advantages over other separation methods: non-toxic, harmless, environmentally friendly, non-polluting, non-thermal processing, non-destructive, non-oxidizing, high productivity, large-scale industrial production, energy-saving, low operating cost, and easy separation of products. Sub-critical low temperature extraction technology is now the most suitable method for peppermint essential oil extraction due to above mentioned advantages.

How to Start Essential Oil Extraction Business?
It would be a creative and rewarding idea to start your own essential oil making business. But, it is not as easy as you can see. Here is some of the important considerations relative to essential oil business. (You may also like Eucalyptus Oil Extraction Machine >>)
It is necessary to calculate all the cost to start up the essential oil extraction business, taking into account all expenses and estimated cost. Then, you are able to make sure that your budget and plan can been kept going well. Start-up cost may contain Registration or license fees, Purchase of equipment to make and bottle essential oils, Advertising and promotion for your company's grand opening, Starting inventory of essential oils, Initial fees for your website and e-commerce platform.
Have Market Research of Essential Oil
In order to ensure the success of the essential oil business. Having a market research to get close observation of the market online or in the local market. Then, you can get some ideas about the pricing, the plan and more.
Get the Essential Oil Extraction Machine
Purchase essential oil extraction equipment to start the production of essential oils. Subcritical low temperature extraction machine, patented by ABC Machinery, is very great choice for essential oil extraction due to its advanced extraction technology. There are small scale type or complete large scale type to meet all your requirements. It is worth noting that subcritical low temperature extraction machine is suitable for various essential oil extraction.
Selling the Essential Oils
When the essential oil is produced, selling it into the market would be the next step for your business success. There are many ways to sell the essential oil, such as building a website, choosing an e-commerce platform, start a store and more. Anyways, try multiple ways to sell your essential oils.
The subcritical low temperature extraction technology patented by ABC Machinery is now the most advanced and cost effective method for essential oils extraction. It is suitable for various essential oil making. In addition to large scale oil extraction plant projects, we also provide small scale or lab scale oil extraction equipment to cater your requirements for different capacity. If you have any interests about how to extract peppermint essential oil by low temperature extraction technology, please contact us for more details.