ABC Machinery is committed to providing best solutions for natural extracts processing, helping customers make high quality essential oils, edible oils, plant proteins or natural pigments. Pumpkin seed oil extraction machine is especially designed for pumpkin seed oil processing. Compared to traditional pressing machinery, our pumpkin seed oil processing machine can completely retain all the active ingredients contained in pumpkin seed. Surely, it can also make the pumpkin seed extract based on your specific requirements.
BEST Pumpkin Seed Oil Extraction Machine for Sales
Extracting pumpkin seed oil by this extraction machine is now the most advanced method for pumpkin seed oil processing since it adopts international advanced subcritical low temperature solvent extracting technology to separate oil from pumpkin seeds. The main equipment contained in the complete set of pumpkin seed oil extracting machine is extracting pot, desolventizing pot, evaporating pot, solvent pot and more. The main solvents of pumpkin seed oil extracting include butane, liquid propane, R134a and more. Certainly, the specific solvents should be based on the detail requirements of the ingredient of the final products. (Detailed extracting process at Oil Extraction Process>>)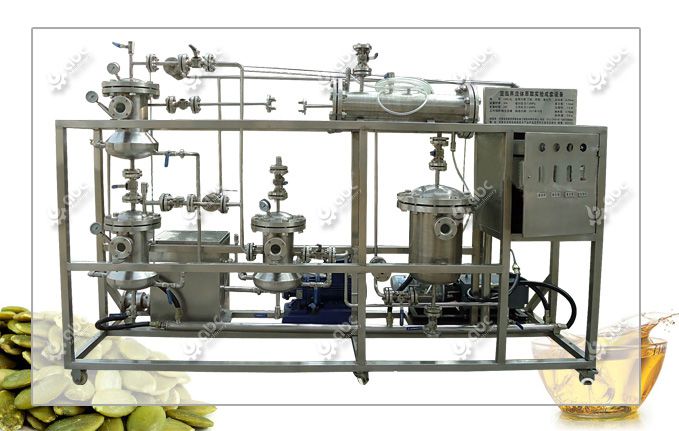 Small Scale Pumpkin Seed Oil Extracting Machine
In addition to above small scale pumpkin seed oil extracting machine, we also provide turnkey project seed oil processing plant. If you are interested in our seed oil extracting machine, please get in touch with us, we will offer the lowest factory price!
Difference between pumpkin seed extract and pumpkin seed oil
Pumpkin seed extract contains cucurbitine, fat oil, protein and vitamins A, B, B2, C and Carotene. The main components of pumpkin seed extraction is fat oil are linoleic acid, oleic acid and stearic acid. Pumpkin seed extract can be used to make medicines since it can treat bladder irritation, kidney infections, intestinal worms, benign prostatic hyperplasia (BPH) and other. Combined with herbal extracts, pumpkin seed extract can effectively treat troubles caused by BPH. (See more about How to Make Pumpkin Seed Protein Power>>)

Pumpkin seed oil is rich in unsaturated fatty acids, such as, linolenic acid. In addition, pumpkin seed oil also contains phytosterol, amino acids, vitamins, minerals and other bioactive substances, especially zinc, magnesium, calcium and phosphorus. Pumpkin seed oil also contains an active biocatalyst can be referred to as the male hormone, can eliminate the early swelling of the prostate for the treatment of urinary tract and hyperplasia of prostate with good and preventive action.
There are a wide range of plant seeds that is also suitable to our pumpkin seed oil extraction machine, including pomegranate seed oil extract, grape fruit oil extract, safflower oil and more. If you want to know more about how the pumpkin seed oil extraction machine works, please contact us anytime!