Rosehip oil is increasingly popular in cosmetics industry due to its extraordinary benefits as a natural beauty product. It contains a lot of essential nutrients, including vitamins, essential fatty acids, therapeutic ingredients and more. Because of its clarifying and rejuvenating beauty effects, rosehip oil has amazingly magical natural healing and beauty functions.


There are many methods to extract rosehip oil, including Cold Pressing, Chemical Extraction, Supercritical Extraction and Sub-critical Solvent Extraction. The quality of rosehip oil is largely decided by its processing procedure, so choose the right method procedure is a key step for rosehip oil extraction.
Analyzing of Different Rosehip Oil Extraction Procedures
Extraction Procedure
Advantages
Disadvantages
Cold Pressing

Simple oil extraction process;
Low investment for equipment;

High residual oil ratio in in oil cake/meal;
High energy consumption;
The natural active component within the original material will be destroyed by frictions and heating;

Chemical Extraction

(Haxane)

Higher oil yield than mechanical pressing;

Large solvent residue;
Has a certain degree of polluting;
Complicate processing procedures;
The natural active component within the original material will be destroyed by high processing temperature;

Supercritical Extraction

No solvent residues
High quality oil

Suitable for small scale oil extraction
Highest investment and strict requirements for extraction machines

Subcritical Solvent Extraction

(Butane & Propane)

High quality final oil and low residual oil ratio
Low investment and simple extraction procedures;
Wide application and suitable for small and large scale oil production;

Newly developed technology (invented by Dr. Qi Kun in 1991, China);
Compare to traditional press machine and solvent extractoin, its investment is a little higher
The best procedure for extracting rosehip oil is the one that can be carried out to preserve its active components and reveal a golden amber amber color and slight fragrance. And, our sub-critical solvent extraction procedure has been proven to keep all the valuable contents of the oil intact. This advanced extraction technology produces rosehip oil of the highest quality.
Detailed Procedure of Rosehip Oil Extraction

Rosehip Oil Extraction Machinery
The Sub-critical Solvent Extraction Technology, invented by our Chief Engineer Dr. Qi Kun, is leading solvent extraction procedure for rosehip oil extraction. It makes up the deficiency of rosehip oil production technically. This procedure mainly adopts propane and butane as the solvents since the two solvents is in gas state at normal temperature and pressure, has quality of low boiling point and volatility. Our rosehip oil extraction method makes fully use of the solvents characteristics to extract and separate rosehip oil from rosehip haw and rosehip seeds. Below is the detailed introduction of our rosehip oil extraction procedures.
Pre-treatment Procedure of Rosehip Seeds
Rosehip Seeds → Conveying → Cleaning → Crushing → Deironizating → Flaking → Drying → Extraction Workshop
Procedure description:the raw material is cleaning with vibration screening to remove peel impurities, stones and other impurities. Then, cleaned raw material is transported to dehulling machine and flaker. The thickness of rosehip seed flake is about 0.3mm, and the moisture is about 8%. This is whole procedure of rosehip seed pretreatment. All processed rosehip seed flake is transported to next sector - Low Temperature Extraction
Low Temperature Sub-critical Solvent Extraction Procedure for Rosehip oil
The main solvent is propane and butane and both of their boiling point is below 0 °C. The extraction procedure is under certain pressure (0.1 -0.6 MPa) and room temperature. The solvent within extracted crude oil and meal will be desolventized under low temperature and vacuum condition. And solvent is processed within this system for recycling. So our patented sub-critical low temperature extraction procedure is the most suitable method for rosehip oil since it preserve the active ingredients of the original rosehip seed, this is to say, extracted rosehip oil has the same condition with the rosehip seeds. So all its active component, protein are completely protected, which provides good condition for further development and process of rosehip oil.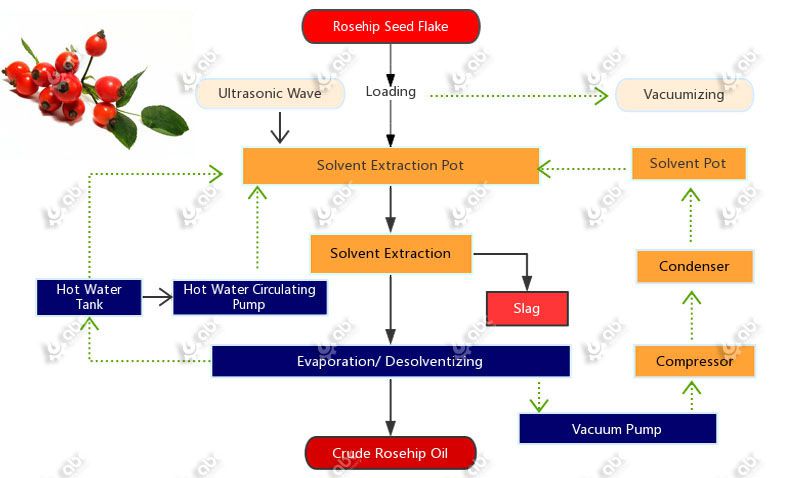 Rosehip Oil Sub-critical Low Temperature Extraction Flow Chart
Crude Rosehip Oil Refinery Procedure
Crude Rosehip Oil → Filtration → Hydrated Degumming → Deacidification → Decolorizing → Deodorizing → Dewaxing → Precise Filtration → Rosehip Oil (or Essential Rosehip Oil)
The whole rosehip oil extraction procedure is completed at normal temperature and pressure, which are incomparable features. We provide the complete set of machines and technique for rosehip oil extraction. And our leading extraction method will ensure you the highest quality of rosehip oil. It's suitable for both small scale and large scale extraction. Besides, we provide A-Z full solutions for all special & vegetale oils extraction, including pomegranate seed oil, moringa seed oil, avocado oil, cocoa butter, shea butte, safflower seed oil, grape seed oil, evening primrose oil, wheat germ oil and more. If you are looking for the best method and procedure for precious oil extraction or normal vegetable oil extraction, please email us for more detailed information!