ABC Machinery dedicates to the development and manufacturing of extraction machinery for natural extracts, including edible oils, essential oils, plant proteins and natural pigments and more. We manufacture and export a wide range of Extraction Machinery and Turnkey Solvent Plant for the customers around the world. Our latest machinery is designed to extract high quality oil from moringa seeds. With affordable price and lowest investment cost, this extraction machine can be used for small scale moringa oil making or large scale moringa oil processing. (You may also be interested in curcumin extraction>>)

Moringa oil, extracted from the seeds of moringa oleifera, is a kind of woody vegetable oil, whose brand name is called "Ben oil" or "Behen oil". Compared with other vegetable oils, the oil has a unique characteristic, which is excellent antioxidant, which does not need to add any synergists or preservatives in its storage.
Moringa Oill Extraction Machine
Our moringa oil extraction machine adopts the very latest low temperature extraction technology, which makes it the industry leading extraction machinery for vegetable oil processing. The final moringa oil is derived from moringa seeds by using the low temperature sub-critical solvent extraction method.
This method, as compared to traditional solvent extraction methods, prevents damages for the natural active components of natural moringa seeds
. (Read more about
what 's bioactive component
).The method also limits solvent residues, and the solvents within the whole system are recycled, which cuts down on the moringa oil production cost. (See more about
solvent extractor lab testing equipment
)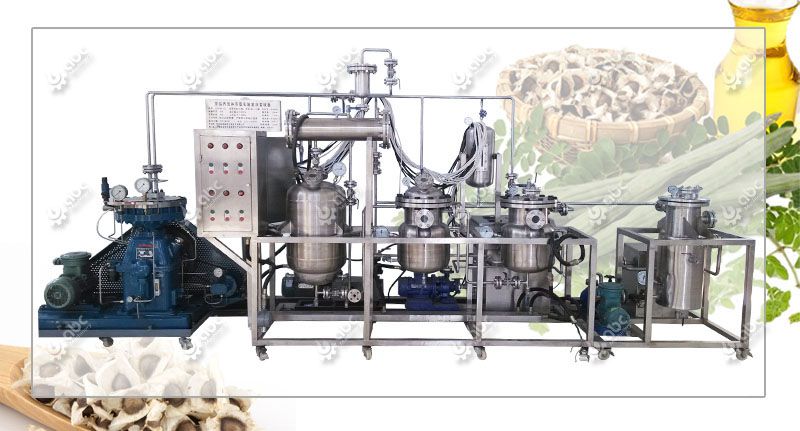 Working Principle Moringa Oil Extraction Machine - Sub-critical Low Temperature
This principle of moringa oil extraction machine utilizes sub-critical solvent for the first extraction process that is known as counter-current extraction. The process involves treating of pretreated moringa seeds with propane and butane, which are classified as liquefied sub critical solvents. The end product from extractor are are extracted oil meal and mixture fluid. The mixture fluid yields to gassified solvent as a result of solvent gasification whereby the fluid is subjected to vacuum evaporation at normal temperature. A fresh recycling session is done after the gasified solvent is condensed or liquefied. The basis of utilizing the sub-critical low temperature extraction technology of our moringa oil extraction machine is that the boiling point of these solvent is below 0°C. When under low temperature and normal pressure condition, the soluble fatty acids and other active components within the raw material and solvents has the propriety of dissolvability. That is how this low temperature extraction machinery get the target products. The processes in this method are achieved with normal temperature and pressures, avoiding damages to the thermal sensitivity of moringa oil. (Read more about herbal extract machine>>)
Outstanding feature of low temperature moringa oil extraction machine
The sub-critical solvent extraction produces high-quality moringa oil since there is no heat in the extraction process. This also protects the natural active ingredients in moringa oil from undergoing oxidation reaction.
The sub-critical low temperature moringa oil extraction machine requires low investment compared with supercritical extraction equipment under the same condition to produce upscale quality oils. This is due to the fact that the pressure is maintained in the moringa oil extractor and other extraction equipment is much less than that of supercritical extraction machinery, making it worthwhile for in small and large scale moringa oil production.
The moringa oil meal is produced through low temperature desolventizing process, so there are no damages for the oil meal, providing good condition for further processing and development. More important, this low temperature oil meal is priced high in the market.
ABC Machinery develops high quality and innovative moringa oil extraction machine by inventing subcritical low temperature extraction method, making it an industry leader in extraction field for all natural resources. We provide quality professional design and technical support right from installation, service and more. Make the best finance decision in natural extract industry by purchasing our premium moringa oil extractor machinery. If there are any question about moringa oil extracting process or the price of detailed specification, please click below enquiry box, we will always stay focus on your needs!