ABC Machinery provides turnkey projects for various natural pigment & color extraction. Our advanced sub-critical solvent extraction technology and equipment are suitable to process most of natural pigments or colors. The natural pigment extraction plants designed and built by us, such as curcumin extraction plant, are running very well and have achieved good revenues. Curcumin, mainly obtained from turmeric, with great market potentials, has been widely used in cosmetics, food and other industries. (You may be also interested in Turmeric Extraction Method)


Curcumin Extract from Turmeric
Subcritical Curcumin Extraction Plant
Technical principle of curcumin extraction
Under normal temperature and certain pressure, use liquefied sub-critical solvent to process the raw material. This process is called counter-current extraction.Extraction liquid goes through vacuum evaporation at normal temperature, which brings solvent gasification. And the gasified solvent is separated with curcumin components. Then curcumin extract is obtained. At normal temperature, extracted residual raw material will be vacuum evaporated to recover the solvent and get another product. Gasified solvent is compressed or liquefied for further recycling. The whole process is undertaken at normal or low temperature, which doesn't cause any damages to thermal sensitivity of curcumin. Which is the biggest highlight of curcumin extraction by sub-critical solvent technology. (You may also want to Extract Lycopene from Tomato)
When the solvent gasifies from raw material, it need to absorbs heat. For sub-critical solvent curcumin extraction plant, the heat exchange of gasification and liquefaction saves energy consumption. Theoretical calculation and practices have proved that required energy for evaporation of solvent of extract liquor is only one-tenth of conventional solvent evaporation that uses steam energy.
Technological process of curcumin extraction plant
The raw material of curcumin should be pretreated into powder or small pieces. Then, pretreated material will be loaded into the extraction pot.
Pour the solvent into extraction pot for countercurrent extraction
Liquid extract from extraction pot is pumped into evaporation system
Connect intakeports of extraction pot and compressor, and the residual solvent within residual material is gasifying, then come into compressor. Through compressing, liquefaction and condensation, the solvent is saved for recycling. And the extraction slag is discharged out from the sub-critical solvent system.
Liquid extract goes into evaporation system, and the solvent is separated from extract through vacuum evaporation.
Solvent will be recycled after compression and liquefaction. And, the extract is discharged from evaporation system.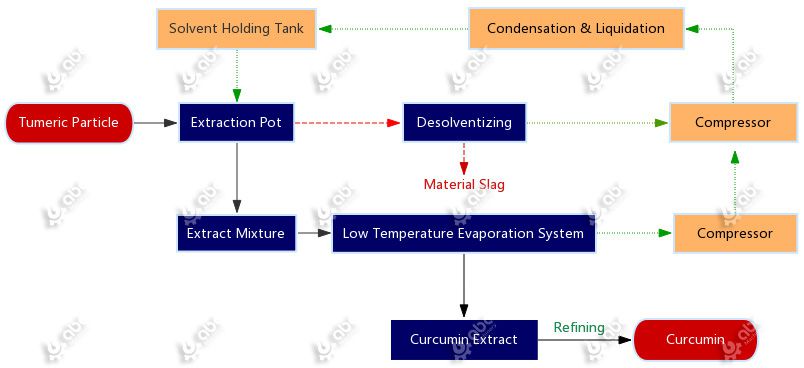 Best Method of Curcumin Extraction Process
Distinguish features of sub-critical solvent extraction for curcumin
Curcumin extraction that utilizes sub-critical solvent extraction technology can meet national and international standards. Besides, its quality is greatly improved compared with the curcumin extracted by traditional methods. And the extraction efficiency is also improved tremendously.
Market Analysis of Curcumin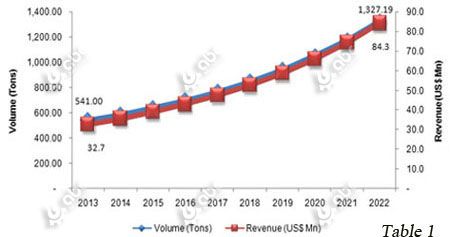 Behind the increasing growth of curcumin in global market is that it has some functions in medicines to help against inflammatory, oxidation and maybe help against cancer. Besides, the support of government is also another reason for curcumin demands.At present, the main producer of curcumin is India. It holds up to 78% of the global market share. We provide an comprehensive market analysis of curcumin based on the application range and regions. (See table 1: Global Curcumin Market Growth)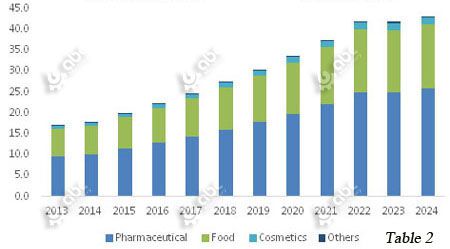 APPLICATION - The use of curcumin in pharmaceutical sector is about 52%.It can bring effective results for some diseases, like alzheimer, which will be the biggest push for curcumin application in pharmaceutical market. Besides, the application of curcumin in cosmetics, food and beverages also drives the continuous growth of curcumin demands.(See table 2: Curcumin Markety by Application in U.S.A)
REGIONS - The demand of curcumin is keeping rising in Germany. From the eyes of the world, Europe, the
United State and China will witness
fastest growing of curcumin. It is estimated that the growth of Europe is 13%, US will be 7.5%.
Unquestionably, there are great demand for curcumin in the global markets. So, how to seize this opportunity to set up your own business? The best solution is to make premium quality curcumin that meets international standards. Here, we provide you the best machinery and advanced methods to obtain premium quality curcumin extract. Please contact us to get details!