What Is Oleoresin Extraction?
Oleoresin is the product extracted from the plants with a non-toxic solvent, which is a highly concentrated substance, existing in liquid form. And the oleoresin production process is called oleoresin extraction which is finished in the oleoresin extraction plant through a series of necessary equipment.


Offer Turkey Oleoresin Extraction Plant Project
We are the best professional oleoresin extraction machinery manufacturer with the national patent of oleoresin extraction technology, offering you the best quality and most professional service from the business plan to factory building and operation. In this oleoresin extraction plant project report, we are going to learn more about oleoresin extraction. (Learn more: how to extract eucalyptus oil)
Oleoresin Extraction Plant on Hot Sale
We are offering our clients the turkey oleoresin extraction solution and help to setup the complete oleoresin extraction plant project based on the clients' requirements and actual condition. (Related article: is it possible to extract oil from almonds without crushing)
Complete Oleoresin Extraction Plant Features
| | |
| --- | --- |
| Suitable Raw materials | Industrial oleoresin extraction production of spices, capsicum, marigold, eulayotus, herbal, flowers etc. |
| Output | 500kg~200 ton per day |
| Application | Business man, processing factory and enterprises, commercial use. |

Superiority Analysis of Oleoresin Extraction Technology
With low temperature (less than 40℃) desolvation, high yield of pigment in the finished infusion, bright color, is the ideal process of precious oil, vegetable protein and natural pigment preservation extraction.

Low solvent consumption, less than 8 kg of solvent per ton of raw material.

No steam is required, hot water at 90°C is sufficient, saving thermal energy by 70% compared to conventional extraction.

Low production cost.

Low pressure of equipment (working pressure 0.3-0.7 MPa).

Low pollution: no production effluent discharge, extraction solvent recycling.

Mature technology. more than 100 sets of production lines have been installed since we has been engaging in this industry, including some listed companies engaged in food processing.

How Is the Oleoresin Extracted?
As you know, the raw materials for oleoresin extraction plant are various such as: herbal, flower and spices etc. To realize the oleoresin extraction, first you should make sure which kind of raw material you would like to produce. (Related article: curcumin extraction plant)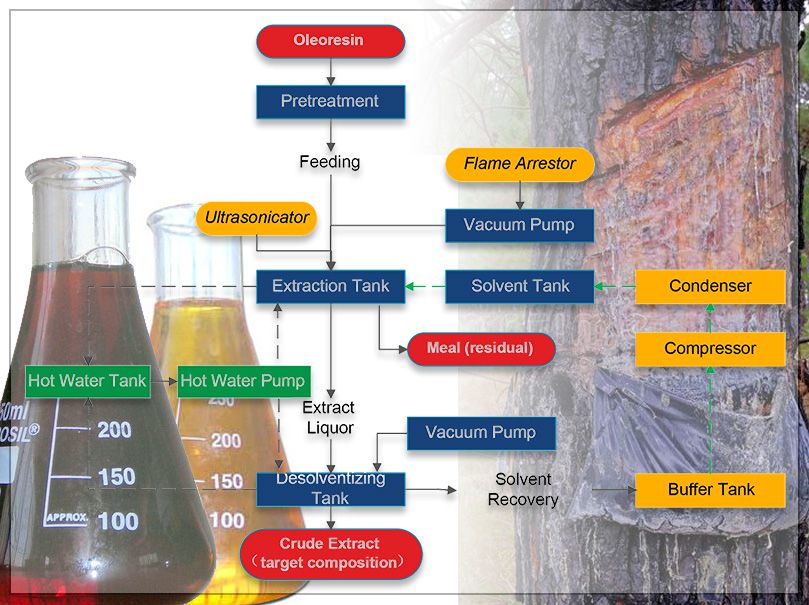 Oleoresin Extraction Process Flow Chart
The oleoresin extraction process begins with washing and grinding the original spices, followed by distillation of the oils from the spices using organic solvents. Different plants require different extraction methods. Common extraction methods are by water (steam distillation), oil and alcohol, and the concentration of each extract will vary. The content can be controlled and fine-tuned by using various solvents and pressures. When the oleoresin is extracted finally, you can use it for later production process.
Video of Oleoresin Extracting Plant
This video is from our client who has purchased our equipment before, showing his great satisfaction. If you have any interest in starting oleoresin extraction process, you can contact us for free!