ABC Machinery is a pioneering machinery manufacturing company in the field of oils extraction. With a strict R&D orientation, our company holds the highest quality standards, and it is the proud inventor of the Low-Temperature Sub-critical Biological Extraction Technology. Its latest achievement, the Spice Oils and Oleoresins Extraction Machine, is heartily praised by the scientific community as it seeks to achieve some of the most-coveted production goals through. Thanks to its high production efficiency coupled with low operation cost.
Spice Oils and Oleoresins
Spice oils are a treasure of nature. They are responsible for each of the unique aroma that characterizes spices, and they come with amazing industrial benefits as they can be standardized readily. Additionally, they are consistent and naturally hygienic. The most common method for spice oil extraction is steam distillation, which may have residual solvent. The quality of spice oils may differ depending on expected final utilization and the desired output, so a customized extraction process and method for spice oils is heavily advised in the field. Generally, spice oils are widely used in cooking, perfume additives, pharmaceutical and personal hygiene product components, as well as cosmetic applications.


Perhaps the most important substances found in spices are oleoresins. These are semi-solid resin extracts that contain the flavor concentrate of the spice. These substances come in both volatile and nonvolatile forms. Spice oleoresins are acquired through a solvent extraction process that requires the evaporation of a non-aqueous solvent, which is our spice oleoresins extraction machine do. Spice oleoresins, steady and aromatic, can effectively substitute every food seasoning.
Process of Spice Oils and Oleoresins Extraction Machine
Spice oils and oleoresins extraction machine adopts Low Temperature Biological Extraction Technology to achieve ultimate extraction purpose. The main solvent is liquid propane, butane, dimethyl ether, R134a and liquid ammonia. Based on specific application purposes of final extracted spice oils and oleoresins, we choose the optimal solvent on the condition of high efficiency. The detailed extraction process for spice oils and oleoresins is decribled below. The normal pretreatment sector includes cleaning, drying, dehulling, Crushing and Pelleting. (You may also interested in Herbal Oil Extractor Equipment)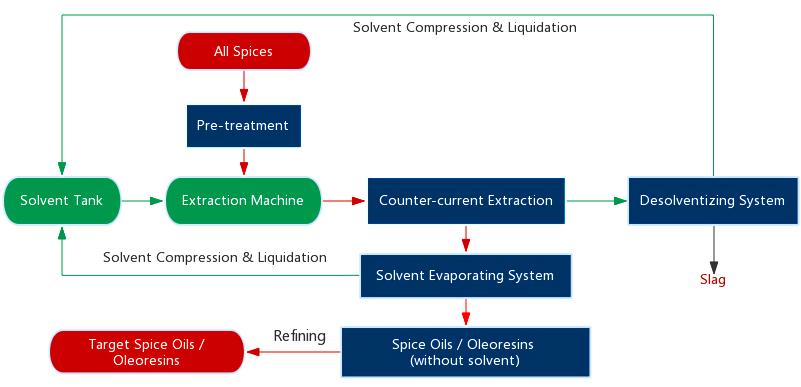 Spice Oils & Oleoresins Processing Flow Chart
Highlights of Our Extraction Machine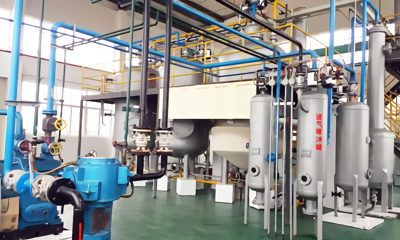 Sub-critical biological Extraction is a break-through technology and is superior to conventional spice oil extraction methods. Its advantages include:
Simple and high efficient extraction process
Easy-to-use and fully automated oil extraction machine
Environmentally friendly, low-cost production by recycling solvent and cutting-down on energy and operation costs
Wide variety of applications in active-ingredients extraction industries
Solvent-free, high-quality final spice oils and oleoresins due to a process that ultimately protects and secures the heat-sensitive oil components
Easily applicable to large scale production
A broad spectrum of spice can be extracted oils and oleoresins. Our extraction machines are suitable for all of them and can be customized for different extraction needs. Spice for oil and oleoresins extracts are
| | | | |
| --- | --- | --- | --- |
| ♦ Capsicum (colored or decolorized) | ♦ Turmeric/Curcumin | ♦ White Pepper | ♦ Celery Seed |
| ♦ Black pepper (colored or decolorized) | ♦ Fennel | ♦ Ginger | ♦ Nutmeg |
| ♦ Cardamon | ♦ Fenugreek | ♦ Laurel | ♦ Onion |
| ♦ Garlic | ♦ Cumin | ♦ Cassia | ♦ Other Spices |
As we gradually gravitate towards better and affordable spice oils and oleoresins extraction methods, we learn that the quality of extracted oils and oleoresins greatly depends on the process, the speed, the efficiency and the operation cost of spice oils and oleoresins extraction machine. And these factors are all well-represented in the ABC Machinery. If you are looking the most advanced and efficient equipment for spice oils and oleoresins extraction, we are definitely your No.1 choice. Please contact us for more details at any time!