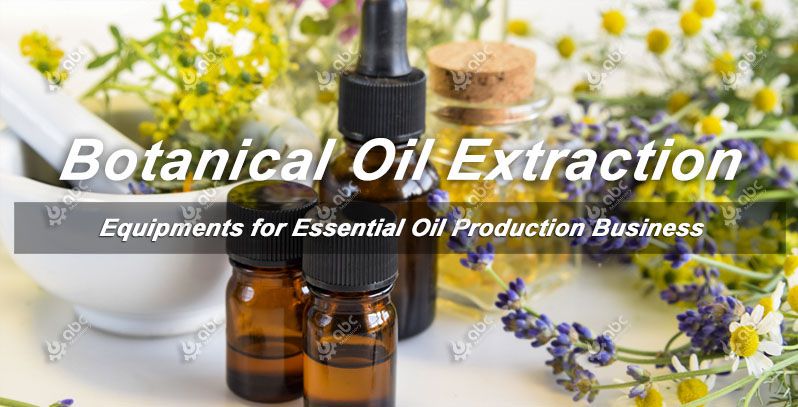 Botanical Oil Extraction Process and Technology
If you are planning to engage in botanical oil extraction business or essential oil production, it is necessary to know about the most popular botanical oil extraction machine, latest essential oil extraction technology, suitable extraction machine for your business, the invested cost and expected earnings. Read more about eucalyptus oil extraction >>
What's Botanical Oil?
As we all know, many of the plants in the world can be used to extract oil from. The botanical oil is also extracted from the parts of plants, including leaves, flowers, seeds, fruits, bark, root or other parts. Now, with the increasing demands of botanical oil across the world, the oil extraction method or machinery for produce botanical oil has been emphasized. The reasons behind the increasing growth of the botanical demands are nutritious proteins, vitamins, minerals and more it contained. Compared to other vegetable oils, botanical oils has many healthy and wonderful advantages:
Superior oxidation resistant ability, which makes the ideal base oil for many cosmetics
Can be used for all skin type, even the sensitive skin, thanks to its no-toxic property
Boasts strong penetrating quality and lightweight features.
New Type Botanical Oil Extraction Equipment [HOT Sale]
Although there are many kinds of extraction machine for botanical oil production, including screw pressing, solvent extraction, subcritical fluid extraction and supercritical extraction. One of the cost effective and advanced one is sub-critical oil extraction that is now the most advanced low temperature extraction technology for many valuable oils and essential oils. Just feel free to send us an inquiry to get customzied essential oil extraction business plan!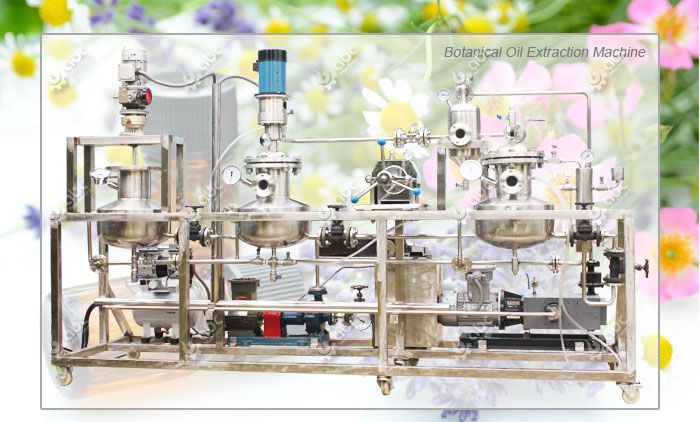 Batanical Oil Extraction Machine for Sale
Botanical Oil Extraction Process
The botanical oil extraction equipment by sub-critical low temperature extracting technology generally uses butane solvent or a mixed solvent of propane and butane through 3-5 times counter-current low temperature extraction, make the material ratio 1:1~1:1.5, extraction pressure less than 0.6MPa, extraction temperature control at 20 ° C ~ 45 ° C to get the processed botanical oil. It may be in cream form. Then it will be further to process and obtain the pure oil. (Maybe you are also interested in avocado oil extraction machines for sale)
Subcritical Botanical Oil Extraction Vs CO2 Extraction Equipment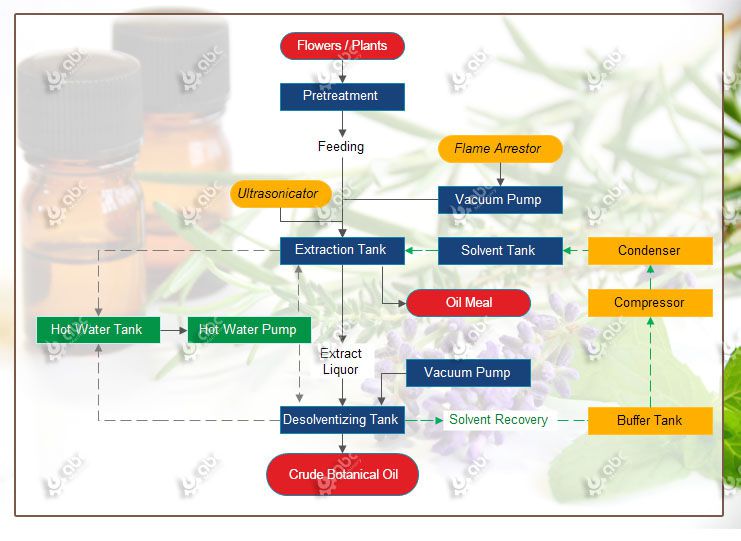 Botanical Oil Extraction Method

Due to low temperatuer process, sub-critical low temperature oil extraction equipment reduces reduce the oxidative rancidity of oils and fats, and ensure that their nutrients and inherent flavor are not destroyed and changed. Sub-critical botanical oil extraction ensure the quality, stability of final botanical oil. At the same time, it can also maintain the high content of monounsaturated fatty acids, rich functional ingredients.
Advantages of Subcritical Botanical Oil Extraction Method and Machinery
The sub-critical low temperature botanical oil extraction machine has many outstanding features that makes it the great choice for customers to start botanical oil production business.
Compared to other types of botanical oil extraction machine, our botanical oil extractor can achieve the same, even much greater functions, but requires relatively low investment. The pressure of subcritical extraction machine is also much lower than supercritical CO2 extraction machine, which makes the equipment price much more lower.
Suitable for medium to large scale commercial production.
The most important, lower pressure requirement also makes it possible for medium or large scale botanical oil business.
Flexible Production Ability
The small scale oil extraction equipment can be customized to cater your planed production capacity.
The whole oil extraction process is very safe and the solvents can be recycled to improve efficiency. Read more about critical extraction machine.
Hot Botanical Oils in the Market
Here are some common types of botanical oil or natural plant essential oil:
Rosehip Oil
Evening Primrose Oil
Almond Oil
Calendula Oil
Lavender Oil

The sub-critical low temperature extraction technology developed ABC Machinery has now become the choice for many investors who plan to produce high quality oils, not only botanical oil, but also other vegetable oils, since it can complete retain the heat sensitive substances which makes the oil of high values and can be used in many high value industries, such as cosmetics, health and fitness and more. If you are interested in it, please let us know. Don't hesitate to contact us - the best oil extraction machine manufacturer in China!