Trichosanthes Kirilowii Maxim Extract Benefits
Trichosanthis, also called Trichosanthes Kirilowii Maxim, is a perennial climbing herb, and tend to be grow in the mountains, thorns overgrown cliff stone crevices. Trichosanthes Kirilowii Maxim has very good pharmacological action, including Expectorant function, Excretion function, Effects on the cardiovascular system, Antibacterial function, Anticancer, Antiulcer action, Anti-aging effect and more


Trichosanthes Kirilowii Maxim
Trichosanthes Kirilowii Maxim Defatted Protein Production
There are many useful substances contained in the trichosanthes krilowii maxim, among which the protein is often extracted individually. But, how to produce trichosanthes krilowii maxim defatted protein and which extraction method can ensure all the active ingredients can't be destroyed.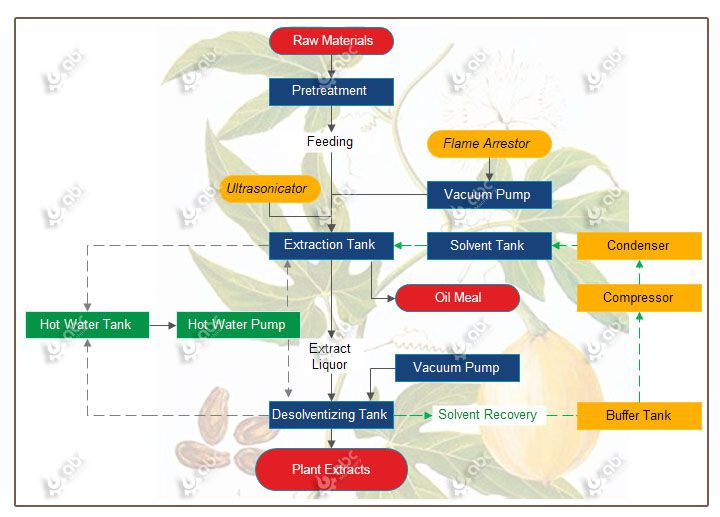 Trichosanthes Kirilowii Maxim Defatted Protein Production Process
Subcritical Low Temperature Extraction Technology is new developed method that has been widely used in the extraction of essential oil, plant protein, vegetable oil, plant pigment, Chinese medicine extraction and more. It is the cost effective method to produce trichosanthes krilowii maxim defatted power for its advanced extraction process and relatively low investment cost. (Recent post: Essential Oil Extraction Business Plan)
Features of Subcritical Low Temperature Extraction Method


Defatted Protein Production Projects
The extraction and desolventizing process are completed under the room temperature, which can ensure the heat-sensitive components in the trichosanthes krilowii maxim defatted power can't be destroyed.
The solvent used in the extraction process is less. Generally, one ton of raw material only consume solvent below 8 kg.
Energy-saving extraction process can save up to 70% heating.
Low investment cost – compared to other advanced extraction technology, it requires less investment cost.
ABC Machinery is original supplier and manufacture of subcritical low temperature extraction technology and subcritical low temperature extraction equipment. We have built many large scale turnkey project for various plant extracts and exported many small scale extraction machine for the extraction of vegetable oils, defatted proteins and more. If you are interested in it, please contact us for more detailed information and technical data!