What Is Chili Oleoresin Extraction Plant?
Chili oleoresin is a semi-solid concentrated substance extracted by oleoresin extraction machines under subcritical technology, and the extracting process is produced in the chili oleoresin extraction plant. After subsequent purification and drying process, oleoresin can produce pigment in chilli for use in daily life.


Factory Price Chili Oleoresin Extraction Machinery
We are a professional manufacturer and supplier of chili oleoresin production equipment, not only offering factory-price oleoresins equipment, but also provide professional oleoresin production knowledge consultation. (Read more: curcumin extraction manufacturing plant cost)
How Does The Chili Oleoresin Extraction Plant Work?
The working principle of chili oleoresin extraction machine is based on the subcritical technology, using the solvent to process the capsicum red pigment out from the chili. After the process, the chili oleoresin is in liquid form, with highly concentrated substance. (Learn more: marigold oil extraction process)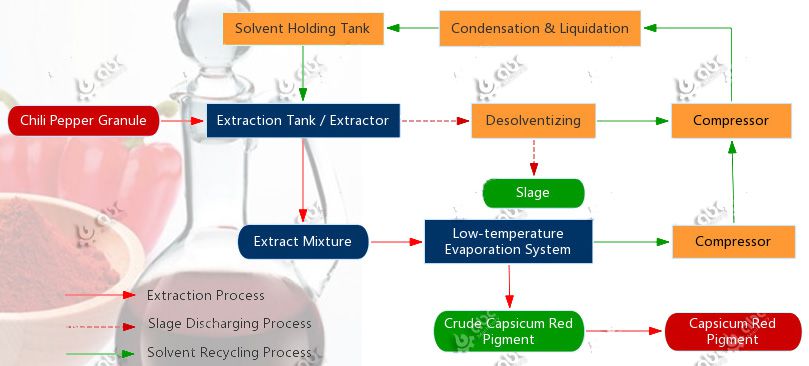 Chili Oleoresin Extraction Machine For Sale
Propane, butane, dimethyl ether, and tetrafluoroethane are the subcritical extraction solvents that we apply more often in the chili oleoresin extraction process. That is because these solvent has superiority that other extraction process do not have:
The conventional extraction process is a physical method at high temperature and atmospheric pressure. While conventional extraction solvents such as ethanol, hexane and water are extracted at liquid temperatures below their boiling points, the heating process when removing the solvent from the extracts, i.e., causes thermal damage to the extracts and loss of volatile essential oil components.

Supercritical CO2 extraction, on the other hand, is a low-temperature, ultra-high-pressure, inefficient physical method, sometimes accompanied by the chemical effects of carbonic acid, which is contraindicated by the extraction.

Subcritical extraction has gone through small pilot, pilot, production trials and has been mass production of more than 200 kinds of raw materials, such as oil tea seeds, peony seeds, walnuts, grape seeds, coriander, flax seeds, maple seeds, pine nuts and other plant oil extraction, rose, incense, pepper, ginger and other plant volatile essential oil extraction.

Professional Chili Oleoresin Extraction Plant Manufacturer for You
Our company is strong, with 39 million yuan for the registered capital of the head office and subsidiaries. And the research institute owns 22.7 acres of land, 65 acres of production plant land, long-term development and stability. With 12 sets of various types of subcritical laboratory equipment to carry out domestic and international technical services.
We have a professional R&D team. The subcritical technology and equipment original team possesses 2 experts who enjoy the special allowance of State Council, with one is the "subcritical" trademark holder. Meanwhile, possessing more than 20 invention patents to protect from infringement lawsuits.
Successful Oleoresins Extraction Plants Display

Mini Chili Oleoresin Ectraction for Lab Use



Professional Chili Oleoresin Extracting Plant for Sale
What Can We Do For Your Oleoresin Extraction Plan?

Oleoresin Equipment for lab use
subcritical extraction scientific research test equipment
various subcritical extraction laboratory sets of equipment

Oil Extraction Plant
Constructing turnkey projects of extraction production line
Construction of oil refining production line
Plant Oleoresins extraction process
Development of extraction technology and equipment for fat-soluble active ingredients of various natural plant and animal raw materials

Video of Mini Oleoresin Extraction Plant Running
As the pioneer of Henan Province subcritical extraction equipment engineering technology, our company has high equipment manufacturing configuration, each set of equipment is a boutique build, strong technical support for the follow-up of cooperation. If you have business plan to start the chili oleoresin extraction plant, welcome to contact us freely!