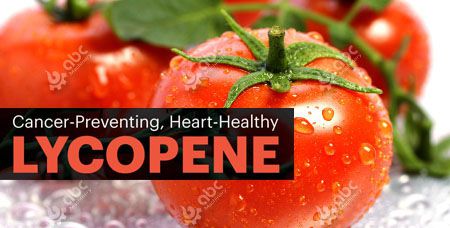 Lycopene, obtained from tomato species, is a kind of carotenoid and phytonutrient. It has many benefits for human body. For instance, it prevents degenerative diseases, protects DNA from damage and reduces risks of cancer, heart disease and age-related macular degeneration. Besides, lycopene is also great substance for cosmetics. Some fruits and vegetables contain lycopene, such as tomatoes, watermelon, papaya, guava, sweet red peppers, mango, carrots, red cabbage, and pink grapefruits. But, the content of lycopene in tomatoes is the highest. The average content of carotenoids in tomatoes was 0.4-0.75mg/100g, and the content of carotenoids in the pulp was about 8-12mg/100g. The content of lycopene was 85-90%, which was dark red. If the content of lycopene is 70 ~ 80%, orange red. So, tomatoes or tomato-based products are the ideal raw material to extract lycopene.
Best Method to Extract Lycopene from Tomato
At present, there are several methods to extract lycopene from tomato, such as smashing method, traditional solvent-extraction method, chemical synthesis method and supercritical extraction, microbiological fermentation method, etc.. But the most commercial and efficient method to extract lycopene is Low Temperature Sub-critical Biological Extraction Technology that can ensure high quality of extracted lycopene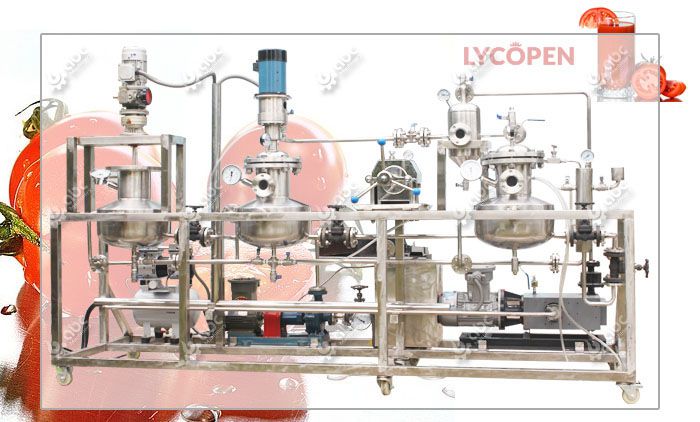 Capacity: 5~150L (extraction pot volume)
Detailed procedure of lycopene extraction
The detailed procedure of lycopene extraction from tomato with sub-critical solvent extraction method is indicated below.
Use professional machine pretreat tomatoes into small powder
Load tomato powder into the extraction pot
Pour sub-critical solvent into extraction pot for countercurrent extraction
Pump liquid extract within extraction pot into evaporation system
Gasified residual solvent in the extraction pot will flow into the compressor through inlets. And the residual solvent will be compressed, liquified and condensed for recycling. And the slag will be ejected out from the processing system.
Separate the extract and solvent in the evaporation system through vacuum evaporation
Separated solvent is recycling after compression and liquefaction. And Separated extract is the objective product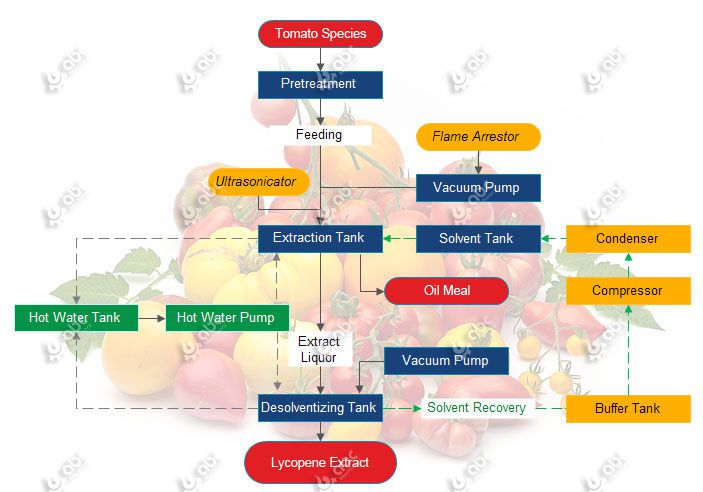 procedure flow chart of lycopene extraction
Advantages of Sub-critical Solvent Extraction for Lycopene
Sub-critical solvent extraction technology fully makes use of the principle that similar organic matter can be dissolved by each other and uses the sub-critical solvent as extraction agents to transfer the liposoluble components within raw material into liquid solvents. Then, by the process of reduction vaporization, objective products are separated out from the solvents. The whole process is under low temperature and normal pressure circumstance. Therefore, the nutrients contents and natural components won't be damaged, which totally promise high quality final products.
Compared to supercritical extraction methods, sub-critical solvent extraction have many advantages:
Requires less investment for extraction equipment
It can form large-scale production due to normal pressure for extraction equipment
Low production cost, environmental protection, energy-saving
It has been well applied in many fields, such as Precious Oils Extraction, Capsanthin Red Pigment Extraction, Curcumin Extraction Plant and more.
Market Analysis of Lycopene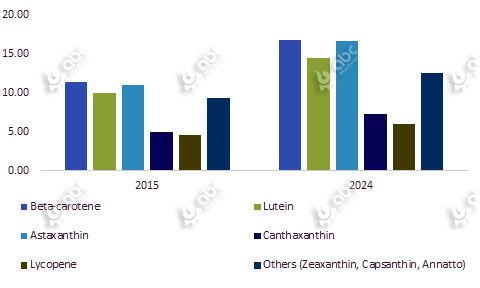 In today's global market, there are two kinds of lycopene: synthetic lycopene and organic lycopene. And, organic lycopene is popular most and its demand keep increasing, because it contains anti-cancer properties that have good effect to against degenerative diseases. What's more, it has been applied in many industries that is related to human life, such as cosmetics, pharmaceuticals, food & beverages, dietary supplements and more. It is ideal natural colorants. In conclusion, the global demand for organic lycopene will grow increasingly in the next few years.