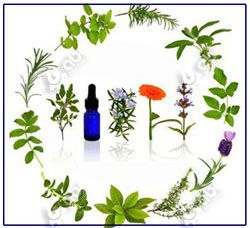 ABC Machinery provides improved solvent extraction technology for Essential Oil, Natural Pigment and Plant Protein Extraction. We are an industry leader in natural active ingredients extraction field, developing low cost and high efficient extraction equipment and extractor. Our essential oil extraction equipment is guaranteed quality and innovation. It can be used to extract essential oils from a broad spectrum of materals, including herbals, spices, citrus and more. If you are looking for an ideal extractor for essential oil production, please let us your requirements!
Essential Oil Extraction Equipment for Sales
The essential oil extraction equipment includes condenser, vacuum pump, extraction tank, solvent holding tank, and more. The quality of essential oils is decided by the complete set of extractor, as well as the extraction pressure and temperature. However, our cutting-edge extraction unit adopts low temperature biological solvent extraction method that process the raw material at low temperature and normal pressure condition, normally, 0.3Mpa ~1.0 Mpa. Therefore, the active ingredients contained in the original essential oil sources. What's more, there are no solvent residue for the final essential oils product. And the solvent can be recovered for recycling uses after compression and condensation. All of these advanced features make our essential oil extraction equipment different from traditional solvent extraction machinery. It's more suitable for essential oil production, in small capacity or large capacity. We supply complete essential oil extractor equipment and turnkey projects. We also have rich experiences in setting up customized essential oil plants. You are welcomed to contact us for more detailed information! (See more about Herbal Extractor Machine)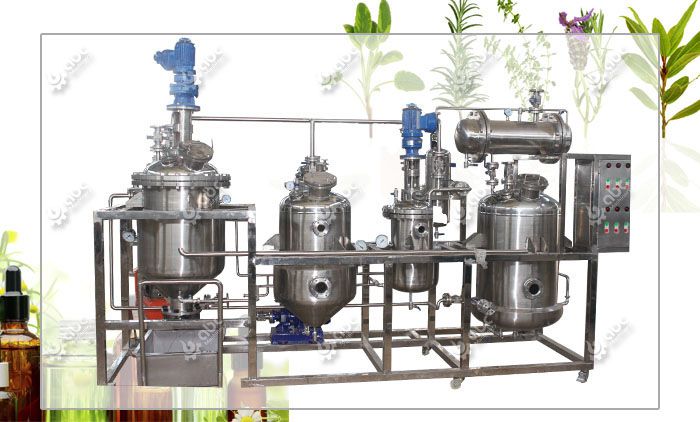 Small Essential Oil Extraction Equipment (100L)
Working Principle of Essential Oil Extraction Equipment
The essential oil extraction equipment utilizes ABC Machinery patented subcritical solvent extraction method to produce upscale high quality final essential oils. The solvent used for essential oil extraction should be based on the special properties of oils sources. The main solvent includes butane, dimethyl ether, propane, R134a, etc. It mainly makes use of the principle of similar substance is more likely to be dissolved by each other to extract essential oils. The extraction process goes within the extraction tank, which is for counter-current extraction. The extraction tank should be designed according to the specific production capacity. Evaporizing system will separate the target product from solvent. Then the solvent will be condensed and compressed for recycling use. The temperature and pressure is at normal standard, which eliminates the damages for active ingredients and heat-sentitive substances.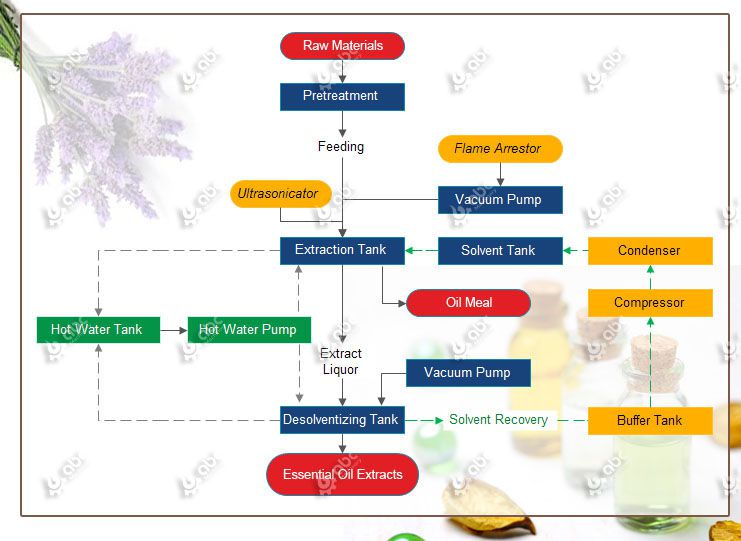 Biggest Highlights of Essential Oil Extraction Equipment
High oil extraction efficiency with no solvent residues
Environmental friendly process ensure no pollution and zero discharges
Heat-free extraction process, only 90℃ is enough
Available recycling solvent and less solvent consumption is the best efficient solvent extraction methods
High quality final oils, meals because of low temperature extraction
Cost effective equipment and low operational cost reduces the investment on essential oil production
Also applicable to the extraction and collection of volatile oils for industries, like, traditional Chinese medicines, health products, biopharmaceuticals, cosmetics and food
Why You Need Our Essential Oil Extraction Equipment?
The global essential oil market demand size has increased in the recent and expected to reach $9.8 billion by 2020. The increasing applications in aromatherapy togetherwith rising demand for flavors and fragrances in food and beverage and personal use is expected to fuel the market demand over the forecast period. Disposable returns have increased, which has increased the applications from numerous industries, including soap, cosmetic and beauty product and cleaning product manufacturers. Unlike most conventional medicines, essential oils have no detrimental side effects. Most consumers prefer natural products leading to the development of innovative ways in the beauty industry and personal care. Customers are keen on specialized natural products since the variety of application demands specific characteristics and components.
In summary, our essential oil extraction equipment offers a better method for essential oil manufacturers, helping them get the higher quality products with natural active ingredients while reducing the investment cost. The complete set of essential oil extractor is ideal for various plants, citrus, grass, herbals, spices and more. Please contact us if you are not sure whether your raw material is suitable for our essential oil extraction equipment, or if you want to know more details about our other extraction machinery and process. We always focus on your needs!