Soybean germ is the product that is peeled off during soybean processing by separating the bean skin and bean flap. It accounts for about 2% - 2.5% of the soybean seed. The germ is rich in nutrition and contains a variety of physiological active substances, such as oil, protein, vitamin E, phytosterol, soybean isoflavone, soybean saponin, soybean oligosaccharide and so on. The content of soybean isoflavone in germ is very high, so, soybean germ has become an important raw material to extract isoflavone. (Read more: Avocado Oil Extraction Machine >>)


Soybean Germ Oil Extraction Equipment for Sale
The oil content of soybean germ is 12 ~ 15%, and soybean germ oil is rich in vitamin E, up to 200mg/100g, which is comparable to corn germ oil (50mg/100g ~ 250mg/100g). Soybean germ oil is rich in phytosterol, mainly -sitosterol, and the content of crude oil reaches 7.25%. Phytosterol has the ability to regulate hypercholesterolemia and anti-tumor ability, and sitosterol also has anti-inflammatory activity.
The fatty acid composition of soybean germ oil and soybean oil is very different. The content of linolenic acid is as high as 23.7%, which is much higher than 4.3% of soybean oil. See the table below for details:
| Fatty Acid Composition | Soybean Germ Oil | Soybean Oil |
| --- | --- | --- |
| C16:0 | 13.2 | 11.1 |
| C18:0 | 3.0 | 4.8 |
| C18:1 | 6.7 | 32.5 |
| C18:2 | 52.7 | 44.6 |
| C18:3 | 23.7 | 4.3 |
| Other | 0.7 | 2.7 |
Low Temperature Oil Extraction Technology Extracts Soybean Germ Oil
Since 2002, we have carried out the subcritical extraction of soybean germ for many times. From 2012 to 2014, Professor Xu Bin and Master Zhou Shilong of Jiangsu University systematically studied the subcritical extraction conditions of soybean gem, and based on this, established the thermodynamic and kinetic model of subcritical butane extraction.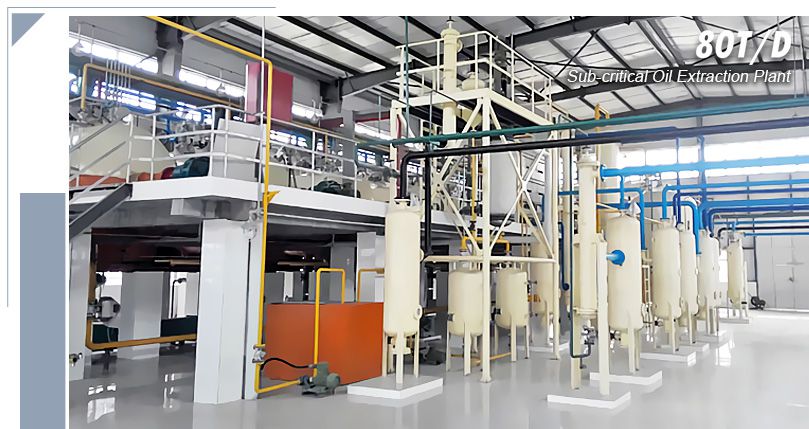 Large Soybean Germ Oil Extraction Plant
ABC Machinery has successfully processed soybean germ in large quantities in multiple batches to obtain soybean germ oil and meal in our 80t/d sub-critical low temperature production line in 2006. Moreover, low-temperature meal is all used for the extraction and production of soybean isoflavones.
The Subcritical Low Temperature Oil Extraction Process of soybean Germ Oil:
Soybean Germ → Selection → Softening → Flaking → Low Temperature Oil Extraction
Soybean germ was first screened to remove impurities and were fed into a softening machine, which softened the germ at about 50℃ for 15-20 minutes. The softened material was then put into a billet rolling machine and rolled into a 0.3mm billet sheet, then into an extraction tank. Butane was used as solvent and the crude soybean germ oil and low-temperature meal were extracted by four countercurrent extraction.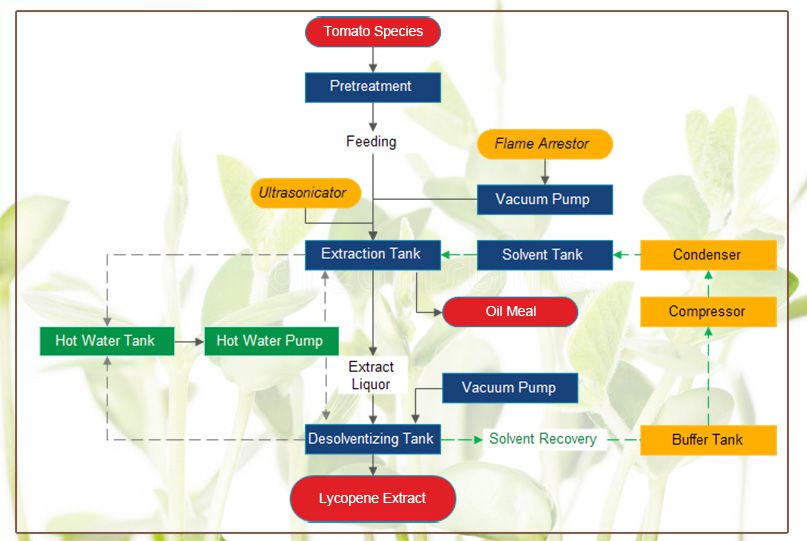 Soybean Germ Oil Extraction Process
Lab-scale/Mini-scale Soybean Germ Oil Extraction Machine for Sales
To help more people who are interested in low temperature extraction technology and soybean germ oil extraction, we provide small scale soybean germ oil extraction machine that requires less cost and perfectly works with sub-scritical low temperature technology.
Video: Low Temperature Soybean Germ Oil Extracting Equipment