Pumpkin seed contains rich oil, protein, amino acid, carotene, various vitamins and trace elements. The nutritional value of pumpkin seed is very high. Due to the unique flavor and rich nutrition, pumpkin seed oil has been a popular new type health care oil today. In addition, the protein content in pumpkin seeds is up to 6.4% of the pumpkin seeds weight. Pumpkin seed protein contains a veriety of good essential amino acids and a large number of thiamine, and free from tannins, pancreatic proteinase inhibitors and flatulence factor, which makes it suitable for children (3 ~ 5 years old) and the elderly to eat. So, how to make high quality pumpkin seed protein powder? Here, we introduce a new type efficient technology for pumpkin seed protein power making. If you are interested in it, please contact us for more information!

How to Make Pumpkin Seed Protein Powder?
It is a new method of extraction that is used to obtain the natural extract through low temperature extraction. Many people have turned to this process of extraction for plant protein extraction. So, how it works on pumpkin seed protein making?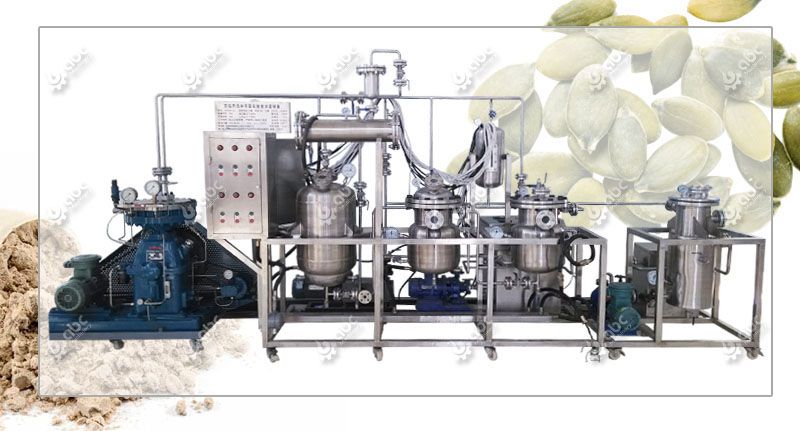 By this method, subcritical solvents are used to soak pretreated pumpkin seed meal. Soaking is done in an airtight and oxidation free tank. By counter-current extraction, a liquid mixture is obtained which is the target protein and solvent. Time taken during the countercurrent extraction is dictated by the proprieties of pumpkin seed meal. Normally, we choose low temperature pressing pumpkin seed oil meal since it has complete nutrition values. The subcritical solvent is chosen since they have a low boiling point that mainly bellows 0℃, e.g., butane-propane and pentane. The temperature required for protein making is usually higher than the boiling point of the solvent but lower than the critical temperature.To ensure that the principle of similarity-intervisibility is realized.The solution and the target product are mixed to form a liquid. A pressure between 0.3MPa-1.0MPa and the temperature for extraction and desolvation is the room temperature which should not go beyond 40℃. Holding this conditions constant ensures that the protein powder production process does not affect the thermal sensitive natural sources which are damaged by high temperatures. This method of low-temperature extraction is ideal when extracting proteins from natural plants. Find out more models and parameters about protein production at Protein Extraction Kit!
Advantages of Low Temperature Extraction for Pumpkin Seed Protein Making
When using this process, there is no destruction of the active ingredients in the pumpkin seed protein.
Excellent dissolving capacity and best permeability are reached which improve the transfer rate between the gas state and fluid state since molecular diffusion is enhanced.
The product is not oxidized since the extraction equipment is airtight.
The extraction process is cheap since the conditions required, i.e., Low temperature and low pressure are readily achievable.
ABC Machinery is committed to supply quality protein extraction machine and methods for different types of plants. In addition, we are also well recognised for our good after sales services. We are your reliable manufacturer and supplier for natural protein making in China. If you are interested in our pumpkin seed protein making machinery, please contact us without any hesitations!