Defatted Groundnut Flour Making Project in India >>
ABC Machinery are the best peanut protein powder making machine supplier and offer competitive price. Peanut protein, made by low temperature extraction method, is a kind of vegetable protein with high quality and high nutritional values. It complete keeps the nutritions of peanut, soluble protein and the high NSI value. It is in good water solubility, white and delicate flavor, has a unique fragrance fresh peanut. Its nutritional value can be compared with the animal proteins. Besides, peanut protein powder contains a large number of human body essential amino acids, vitamins, trace elements and minerals. The effective utilization rate of peanut protein powder is up to 98%, and easy for human digestion and absorption. More importantly, it contains little antinutritional factors that is less than that of soybean. Peanut protein powder is the low sugar, low fat, no cholesterol, high nutritional value of natural nutrition. (You may also interested in pea protein extraction process>>)
What's Low Temperature Peanut Protein Powder Making Machine
Our peanut protein powder making machine uses the latest extraction technology - subcritical low temperature extraction to extract high quality peanut protein from the peanut meal that is also obtained by low temperature extraction. The peanut protein extracted by our subcritical low temperature making machine has good emulsification, gel, water retention, foamability and lipophilicity, glue, adhesive, ductility, organization form, the fiber formation and other functional characteristics, which have reached the international standards and are widely used in the food processing industry since it has obvious effect on increasing protein content, improving quality, reducing cost and improving efficiency. (See more at plant protein extraction>>)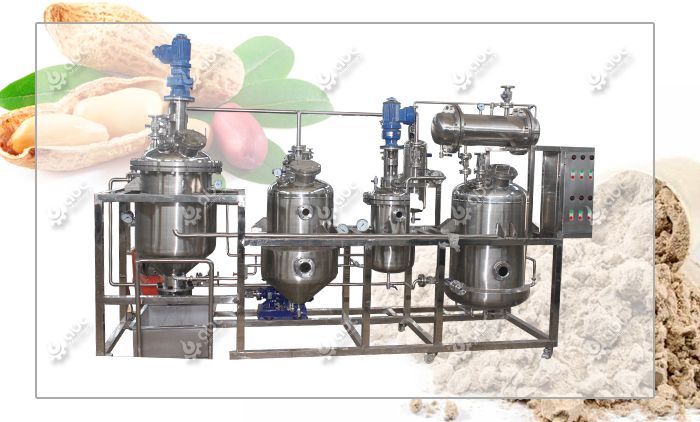 Low Temperature Peanut Protein Powder Making Machine
Process of Peanut Protein Powder Making
First, choose high quality peanut as the raw material. Then get the red peanut coat removed. Through cold pressing to get the crude peanut oil and peanut meal. Here, the process to obtain peanut meal can also adopts low temperature subcritical extraction method to ensure there are no damages on the natural active components within the peanut. (You may oil interested in our solvent extraction machine for oil>>)
Second, crush the peanut meal, low temperature extraction for peanut protein, then through crushing and sterilization, the high quality peanut protein powder is made.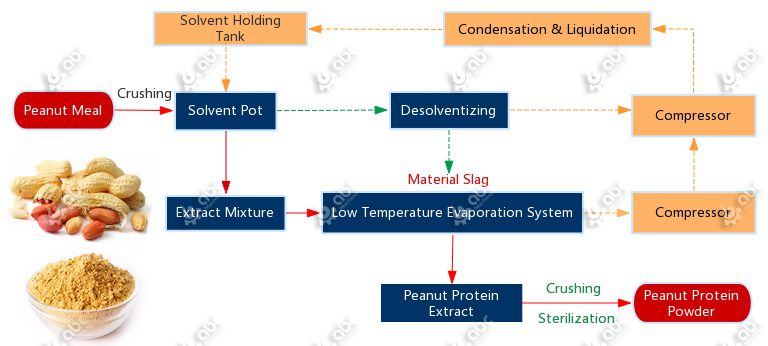 Peanut Protein Powder Making Process
Technological Advantages of Peanut Protein Powder Making Machine
Extraction under normal temperature, desolventizing under low temperature (less than 40 ℃), which ensures the heat-sensitive materials within the protein aren't undermined. So our low tempeature protein powder making machine is ideal for high quality peanut protein production.
Do not need steam, 90 ℃ hot water is enough for the whole protein extraction process, which saves heat and energy.
There is no "three waste pollution" in production process. So our peanut protein powder making machine is totally environment friendly.
Requires mall investment and low production cost (compared to supercritical carbon dioxide extraction equipment);
Low equipment pressure and high safety (working pressure 0.3-0.7 Mpa);
can form large scale protein powder production, a natural product extraction plant with our low temperature making machine can reach 200 tons/day.
Application of High Quality Peanut Protein Powder
The active ingredients of peanut protein can be retained by using our low temperature peanut protein powder making machine. This is a kind of defatted protein powder that is with good colour, lustre and senses. Defatted peanut protein powder is used in food industry due to its outstanding quality. It can provide nutrition for food, has the function of emulsification and increasing aroma. Peanut protein contains eight essential amino acids, especially glutamate and aspartate, which can promote brain cell development and memory enhancement.