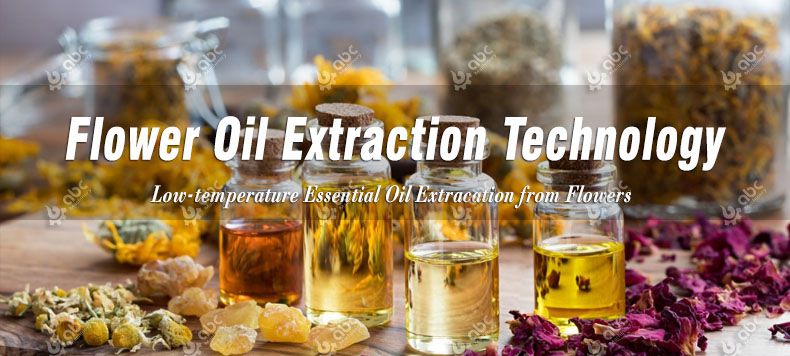 Flower Oil Extraction Technology and Process
If you are willing to start your own essential oils business and are looking for flower oil extraction machine to produce premium natural essential oil. Low temperature sub-critical flow oil extraction machine is greatly recommended! Click here to read about how to extract eucalyptus oil?
Subcritical extraction machines have all the advantages of Supercritical CO2 Extraction machine. The flower oil extraction process is vacuumed, which can avoided oxidation reaction of special materials so that to get high grade essential oils just as supercritical extraction. Besides, sub-critical extraction technology is actually superior to supercritical extraction at 2 points:
Low equipment price and low production costs;
Not only suitable for laboratory use, but also suitable for business production;
New Type Flower Oil Extraction Machine for Business Use
Sub-critical low temperature extraction machine is the new type advanced essential oil extraction equipment. It can extract the essential oils from the flowers, both fresh flowers or dried flowers.
Why Choose Sub-critical Extraction Machine to Extract Flower Oil?
Sub-critical flower oil extraction equipment make use of the low boiling point of sub-critical flow characteristics, achieve normal temperature extraction and low temperature desolventizing. Read more about safflower oil extraction process >>


Flower Extraction Machine (left for 2ton/h oil production, rightfor 5ton/h oil production)
What is more, the whole flower oil extraction process was conducted in closed condition, which ensures the anaerobic extraction process, avoids light, achieves low temperature oil extraction, at the same time minimizes the loss of the volatile oils. Most importantly, sub-critical extraction technology can largely retain the heat-sensitive and active ingredients, which makes it the most advanced and ideal oil extraction method for flower oil extraction for business use. It is also great choice for spice oil extraction.
Flower Oil Extraction Business Prospect
With the growing population and advancing times, people are coming up with new ideas more frequently. The flower oil extraction business is one of the upcoming business ventures. Entrepreneurs have considered the flower oil extraction business to be very booming. This has been brought about the new trends of the population deviating from synthetic products to organic products. Through the nutritionists, advice on healthy living people have been asked to consider the use of the flower oils. Oils are a common factor in most of our meals. People are focusing more on natural products. (Related post: lutein extraction from marigold flower)
The experts claim that the flower oil extraction business might hit $13.94 billion by 2024. This is due to the high rising demand for oil products. This oil products are not only used for domestic consumption, but there other industries which depend on the oil product. These include the cosmetics industries, pharmaceuticals, food and beverage industries.
What You should Do to Start Flour Oil Extraction Business
There is a range of potential flower oil extraction business that one can venture on. Therefore, one should make appropriate considerations depending on the available resources. Drafting a good business plan on what kind of flower oils is very essential for the success of your flower oil extraction business. Before venturing into the business, there are some factors that you should take into careful consideration.
Strategic planning on the business implementation from production through to marketing of the flower oil products.
Market research for the extract flower oil to be extracted on its current demands and availability of the raw materials to meet the production demands
The business is a capital intensive venture and good financial plans are necessary to see the business through to success
Get the required permissions or licenses for your business according to your country's law.
Prepare the necessary space or factory for the flower essential oil production
Calculate the break or expected ROI by carefully considering the cost for equipment, transportation, labors and more.
Top 7 Flower Oils for Essential Oil Extraction Business
The followings are some main flowers widely used for essentail oil production. Don't hesitate to contact us if you have any questions in flower oil extraction process. You are also welcome to send us an inquiry and tell us your flower type. As an experienced essential oil machine manufactuer and supplier, we can help you make the BEST business plan for FREE.
Camomile
Geranium
Jasmine
Lavender